He has only been in office for 14 days, but there are already signs that Berdymukhammedov is making changes in his reclusive country.
John MacLeod, a senior editor with the London-based Institute for War and Peace Reporting (IWPR), calls the changes more amazing because there was no real pressure on the successor to strongman President Saparmurat Niyazov to make them.
"The [former] president is barely buried and we see remarkable promises, basically rolling back on things that were held up as the great achievements of the 'great leader,'" MacLeod says. "These promises are made when they didn't have to be made. A cynic could say it's merely to curry favor with the electorate in an uncertain time and also to make a few friends abroad. But they are nevertheless promises that didn't necessarily need to be made, and on a fairly wide range of issues. They were made and there appears to be some action on them; and I think that can only be to the good."
10 Years of Schooling
One of Berdymukhammedov's early focuses has been education. He has restored the mandatory-education system to 10 years instead of the nine that Niyazov decreed along with the elimination of many teaching jobs. He has also vowed to rebuild higher education, which Niyazov crippled by cutting enrollment and making it impossible for most Turkmen students to study abroad.
Erika Dailey, director of the Open Society Institute's (OSI) Turkmenistan Project, applauds Berdymukhammedov's early emphasis on education but stresses that much still needs to be done.
"We've seen some actual concrete steps in the direction of restoring some of the educational backsliding that had taken place so dramatically under Niyazov -- specifically the passage of presidential decrees," Dailey says. "The key, of course, is going to be implementation. It took only the swipe of a pen to eliminate large chunks of the educational system; but it's going to take many long, difficult years to actually restore [the system from] the damage that's been done."
MacLeod notes that Berdymukhammedov has already taken steps to fulfill other pledges.
"Interestingly, he also promised to open up access to the Internet for citizens," MacLeod says. "And I understand that a couple of government-run Internet cafes have already been opened, and more are promised to come."
Two Cafes?
Niyazov, who died suddenly in December, severely limited access to information, and the Internet was unavailable to nearly anyone in the country.
But the OSI's Dailey warns against overestimating the launch of two Internet cafes at this early stage. She calls it more of a publicity victory for the new president than a genuine public benefit. "There was a symbolic opening of two Internet cafes in the capital," she says. "But neither one was advertised, and both of them are charging such exorbitant fees that they might as well be closed."
Berdymukhammedov also promised reforms in the agricultural sector.
MacLeod predicts that Berdymukhammedov is likely to keep his reforms modest and focused on society in the early stages. That could help Turkmen officials win time to plan long-term strategies and improve the country's image abroad.
"Some pragmatic, sensible improvements to people's lives will improve their international image, make them a few friends abroad, and also basically make them more popular among the electorate," MacLeod says.
International Audience
There is still little that can be said about the foreign policies of the two-week-old administration.
Dailey says Berdymukhammedov has shown he wants better ties with China and, perhaps surprisingly, with an immediate neighbor.
"Berdymukhammedov seems to have given a priority to relations with Afghanistan, which is an interesting choice," Dailey says. "For example, writing off [Afghanistan's] debt. And there have been some warm exchanges at the presidential level regarding bilateral relations."
There have been small signs that the new Turkmen government is loosening its historically tight grip on society. The opposition Turkmen Initiative for Human Rights website reported that travel has been made easier between Ashgabat and the northern Dashoguz Province. On February 27, the group posted a report that said "as of today, on the Ashgabat-Dashoguz road, passengers are being checked at only one post."
Russian media has reported that Turkmen television channel Miras began rebroadcasting programs from Russia's ORT television channel in late February.
(RFE/RL correspondent Antoine Blua contributed to this report.)
Turkmenistan's Presidential Election
Turkmenistan's Presidential Election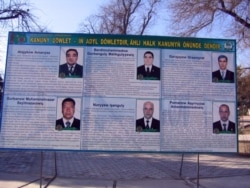 A billboard in Ashgabat with portraits of the candidates in the February 11 election (OSCE)


SIGNS OF CHANGE? Reporters Without Borders analyst Elsa Vidal and RFE/RL Kazakh Service Director Merkhat Sharipzhanov led an RFE/RL briefing in Prague about the significance -- or lack thereof -- of Turkmenistan's first-ever competitive presidential election.
LISTEN
Listen to the entire briefing (about 60 minutes):

Real Audio
Windows Media
RELATED ARTICLES
Could Presidential Vote Open New Chapter?
Sorting Out The Presidential Candidates
Presidential Campaign Reflects Latent Social Tensions
Campaign Opens With Surprising Promises Of Reform
ARCHIVE
RFE/RL's coverage of
Turkmenistan
.