Gurbanguly Berdymukhammedov signed a decree introducing 10-year compulsory education starting in September. The decree said that the move was aimed at raising education standards to the level of developed countries.
The late President Saparmurat Niyazov reduced compulsory education to nine years in 2003.
Berdymukhammedov also announced that the country's first Internet cafe will open in Ashgabat on February 16.
Meanwhile, the United States says the February 11 presidential election in Turkmenistan represents a "modest step."
U.S. State Department spokesman Sean McCormack said Washington was encouraged by the presence of multiple presidential candidates.
McCormack said democracy took time to develop, and called the election campaign and balloting the "first baby steps."
The election was Turkmenistan's first ever featuring more than one candidate -- though all were from the country's only legal party.
Goran Lennmarker, the president of the Organization for Cooperation and Security in Europe's parliamentary assembly, said today the election could be seen as "an important step forward" for a country coming out of 21 years of totalitarian rule.
But he added that the election was not one "in a normal Western sense."
(compiled from agency reports)
Human Rights In Turkmenistan
Human Rights In Turkmenistan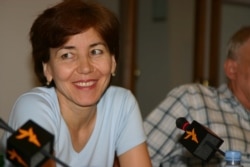 Tajigul Begmedova speaking at RFE/RL in Prague on July 21 (RFE/RL)
LIFE UNDER NIYAZOV:
On July 21, RFE/RL's Prague broadcasting center hosted a presentation by
TAJIGUL BEGMEDOVA,
chairwoman of the Bulgaria-based Turkmenistan Helsinki Foundation for Human Rights (THF). Begmedova discussed the human rights situation in Turkmenistan under President Saparmural Niyazov, focusing on the arrests in June of THF activists and RFE/RL Turkmen Service correspondent Ogulsapar Muradova. Begmedova, who graduated from the Institute of Economy in Moscow in 1987, fled Turkmenistan in 2002 and lives in exile in Sofia.
LISTEN
Listen to the complete presentation (36 minutes; presentation in Russian with consecutive translation into English):

Real Audio
Windows Media
Some RFE/RL Coverage Of Human Rights In Turkmenistan:
Media Coverage Of Leader Distracts From Real Problems
Authorities Cast Wide Net In Conspiracy Allegations
Embattled Turkmen Writer Honored Abroad
RFE/RL Correspondent Recounts Arrest
ARCHIVE
RFE/RL coverage of Turkmenistan.


THE COMPLETE STORY: Click on the icon to view a dedicated webpage bringing together all of RFE/RL's coverage of Kazakhstan, Kyrgyzstan, Tajikistan, Turkmenistan, and Uzbekistan.