President Gurbanguly Berdymukhammedov
told the Russian-based magazine "Turkmenistan" in an interview published on its website that "any attempt to solve a sociopolitical or economic problem immediately and forever only brings chaos and instability."
He described democracy as a "tender substance" that cannot be imposed from the outside.
Berdymukhammedov praised his country's stability, saying that "in 15 years of independence, Turkmenistan has experienced no economic or political shocks."
Berdymukhammedov was elected president of Turkmenistan in a vote last week that the Organization for Security and Cooperation in Europe (OSCE) said marked an improvement but could not be described as a genuine election.
Niyazov ruled the ex-Soviet republic with an iron fist for more than two decades before dying suddenly of a heart attack in late December.
(AFP)
Turkmenistan's Presidential Election
Turkmenistan's Presidential Election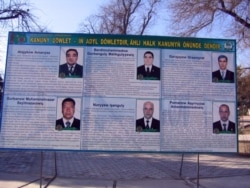 A billboard in Ashgabat with portraits of the candidates in the February 11 election (OSCE)


SIGNS OF CHANGE? Reporters Without Borders analyst Elsa Vidal and RFE/RL Kazakh Service Director Merkhat Sharipzhanov led an RFE/RL briefing in Prague about the significance -- or lack thereof -- of Turkmenistan's first-ever competitive presidential election.
LISTEN
Listen to the entire briefing (about 60 minutes):

Real Audio
Windows Media
RELATED ARTICLES
Could Presidential Vote Open New Chapter?
Sorting Out The Presidential Candidates
Presidential Campaign Reflects Latent Social Tensions
Campaign Opens With Surprising Promises Of Reform
ARCHIVE
RFE/RL's coverage of
Turkmenistan
.