Reports say the crowd -- which included students and women -- was attacked by police with batons.
One organizer of the demonstration, Fatemeh Govarayi, told Radio Farda that several people were injured.
Police forces "were dispersing the crowd violently," Govarayi said. "We were among the people who were beaten. [One woman's] leg was seriously injured. Some of the [student activists] also were seriously injured."
Govarayi was among more than 30 women's rights activists who were arrested in Tehran on March 4 during a peaceful protest -- a crackdown that has raised concerns in the United Nations and among international human rights groups.
All but three of those women have since been released.
Meanwhile, reports say about 3,000 women teachers took part in a Tehran demonstration today to protest low salaries and poor working conditions. Those demonstrators criticized Iranian officials, saying they were indifferent to their plight.
It was the third time in recent days that Iranian teachers have staged a protest. Radio Farda reports that about 20 prominent figures of Iran's teachers' movement were detained by authorities overnight. Their whereabouts remain unknown.
Women In Iran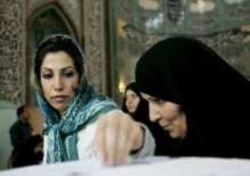 Women in Tehran (epa file photo)

CALLING FOR MORE RIGHTS: Although women played key roles in Iran's 1979 Islamic Revolution, the place of women in post-revolutionary society has been a vexing question. Iranian women have struggled to bring attention to their calls for greater rights in their country's rigid theocratic system, calls that have often clashed with the values proclaimed by conservatives in society. (more)
RELATED ARTICLES
Tehran Police Renew Campaign To Combat 'Un-Islamic' Dress
Iranian Peace Prize Laureate Shirin Ebadi On Women's Rights
Activists Concerned About Self-Immolation Of Iranian-Kurdish Women
The Younger Generation's 'Tehran Blues'
ARCHIVE
RFE/RL's coverage of Iran. RFE/RL's coverage of issues concerning women throughout our broadcast area.

SUBSCRIBE
For a regular review of civil-society developments throughout RFE/RL's broadcast region, subscribe to "RFE/RL (Un)Civil Societies."