House Appropriations Committee Chairman David Obey (Democrat, Wisconsin) said the proposal would bring an "orderly and responsible close" to U.S. participation in Iraq's internal conflict.
House Speaker Nancy Pelosi (Democrat, California) said she hopes the bill is approved next week by the House Appropriations Committee as part of a $100 billion bill to continue funding the U.S. wars in Iraq and Afghanistan. If so, the full House would debate the measure the following week.
Under the plan, if progress toward ending violence in Iraq was not certified by U.S. President George W. Bush, U.S. troop withdrawals would begin even sooner.
Bush is against setting a timetable for U.S. withdrawal from Iraq.
(AP, Reuters)
On The Verge Of Civil War
On The Verge Of Civil War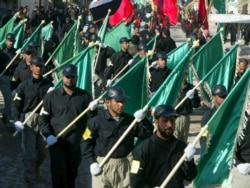 The Imam Al-Mahdi Army on parade (epa)
HAS THE CONFLICT IN IRAQ BECOME A CIVIL WAR? Many observers have concluded that the tit-for-tat sectarian violence that emerged after the February 2006 bombing of a mosque in Samarra has become a full-blown civil war.... (more)


RELATED ARTICLES
U.S. Media Starts Using 'Civil War' Label
Iraqi Prime Minister Under Fire From All Sides
U.S. Expert Discusses Prospects For Stabilization
President Says Iraq Needs Iran's Help
Saudi Arabia To Seal Off Border With Security Fence

THE COMPLETE PICTURE:
Click on the image to view RFE/RL's complete coverage of events in Iraq and that country's ongoing transition.