Brother Of Kyrgyz President Says Will Not Run For Parliament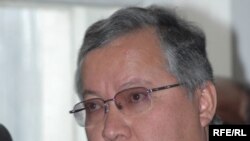 Janysh Bakiev (file photo) (RFE/RL) BISHKEK, March 10, 2007 (RFE/RL)  -- Janysh Bakiev, a brother of Kyrgyzstan's President Kurmanbek Bakiev, says he will not run in an upcoming parliamentary by-election, RFE/RL's Kyrgyz Service reported.
Bakiev said today that to seek a seat in parliament while his brother is president would not be politically and ethically appropriate.
Janysh Bakiev was the deputy head of Kyrgyzstan's National Security Service until last September when his name was mentioned in connection with an attempt to frame an opposition leader, Omurbek Tekebayev.
He had been expected to run for a vacant seat in the Otuzadyr district in southern Kyrgyzstan in the April 29 by-election.