Al-Mahdi told Bush as they met in Washington that it was the reconciliation process that will take the country's political agenda forward.
The vice president cited an oil-and-gas revenue-sharing measure, and other issues.
Meanwhile, a plan put forward by the opposition Democratic Party to require the withdrawal of U.S. combat troops from Iraq passed its first test in the Appropriations Committee of the House of Representatives today.
The panel voted to uphold a provision in a $124 billion war spending legislation that calls for troops to leave Iraq before September 2008, and possibly sooner if the Iraqi government does not meet certain benchmarks.
(compiled from agency reports)
Sharing Iraq's Oil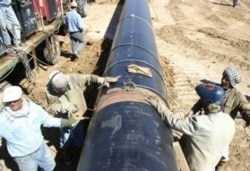 The pipeline from Kirkuk to Turkey is one of Iraq's main oil-export lifelines (epa file photo)

THE FUTURE OF THE ECONOMY. The uneven distribution of Iraq's oil resources has long been a source of tension among the country's ethnic and sectarian groups. Since the fall of Saddam Hussein, the tangled quest to find an equitable way to share oil revenues has been a major stumbling block on the road to national unity.
RELATED ARTICLES
Kurdish Oil Law Poses Problem For Baghdad
Ethnic Tensions Increasing In Oil-Rich City
Government Struggles To Revive Oil Infrastructure
Iraqi Oil Sector Faces Tough Times
Kurds Claim Their Right To Oil