RFE/RL's Radio Free Afghanistan correspondent in Lashkar Gah reported that about 100 residents of Helmand Province gathered to protest at the hospital, which is run by the Italian charity group Emergency.
One of the protesters' demands was information about the fate of two Afghans kidnapped along with Mastrogiacomo on March 5 -- his driver, Sayyed Agha, and his translator, Ajmal Naqshbandi.
The Taliban says it killed Agha for being a "spy" working for foreigners. Agha's brother, Hamayun, says he has heard no official word about the killing -- or about the fate of Mastrogiacomo's translator.
"We have gathered here because the Italian journalist has been released. But his two [Afghan] colleagues have not," Hamayun said. "We don't know whether [the Italian journalist] is a Muslim or if the other two are. But this infidel was exchanged with some people and was released. But the others have disappeared."
Anger At Government
Other demonstrators today focused their anger at the government in Kabul, alleging that it works for the interests of foreigners but not for Afghans.
"In exchange for Afghans, they have released the foreigner," one protester said. "What kind of government is this? This is not a government. It is merely a symbolic one."
Several hours after the Helmand demonstration, the government in Kabul admitted that it had freed Taliban prisoners in exchange for Mastrogiacomo's release.
Karim Rahimi, a spokesman for Afghan President Hamid Karzai, said the exchange was an "exceptional measure" that would not be repeated.
He also confirmed that the Afghan driver, Agha, was beheaded by the Taliban. He said the fate of the translator, Naqshbandi, remains unclear.
Rahimi did not say how many Taliban prisoners were released in the exchange. Taliban commander Mullah Dadullah has been quoted as saying the trade involved five Taliban fighters.
Torturous Ordeal
Meanwhile, Mastrogiacomo has written a report in Italy's "La Repubblica" newspaper today that recounts his ordeal. He said his 15 days as a Taliban hostage was "torture -- psychological, psychological, mental, religious, mentally, political, and existential."
Mastrogiacomo says his abductors stole his possessions, tied him up in chains, moved him from prison to prison, and beat him repeatedly.
He says a man from Pakistan, possibly a member of Al-Qaeda, was present during much of his captivity. He also says the Taliban forced him to watch as four Taliban fighters held down his driver and cut off his head with a knife.
Mastrogiacomo was expected to be sent back to Rome as soon as today.
(RFE/RL's Radio Free Afghanistan correspondent Saleh Mohammad Saleh contributed to this report.)
The Afghan Insurgency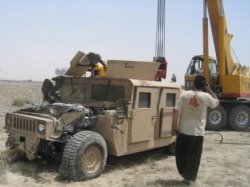 A U.S. military vehicle damaged by insurgents near Kandahar (epa)
HOMEGROWN OR IMPORTED? As attacks against Afghan and international forces continue relentlessly, RFE/RL hosted a briefing to discuss the nature of the Afghan insurgency. The discussion featured Marvin Weinbaum, professor emeritus of political science at the University of Illinois at Urbana-Champaign, and RFE/RL Afghanistan analyst Amin Tarzi.
LISTEN
Listen to the entire briefing (about 83 minutes):
Real Audio
Windows Media
ARCHIVE
RFE/RL's
coverage of Afghanistan
.
SUBSCRIBE
For weekly news and analysis on Afghanistan by e-mail,
subscribe to "RFE/RL Afghanistan Report."