RFE/RL correspondent Golnaz Esfandiari spoke to Omara Khan Massoudi, the director of Afghanistan's national museum, about the importance of the artifacts' return.
RFE/RL: You were involved in the return of the ancient Afghan artifacts. Their return has been described as one of the biggest repatriations of a country's historical heritage in several decades. How were they returned?
Omara Khan Massoudi: The items that were kept in Afghanistan's Museum-in-Exile in Switzerland were returned to Afghanistan on March 16. A delegation from Afghanistan's national museum, headed by me and one of my colleagues, had traveled to Switzerland about a week ago. The items were packed in front of us and placed in a container and, with the cooperation of Germany's Defense Ministry, they were transferred via a direct flight to Afghanistan.
RFE/RL: Please tell us about the collection, which includes different objects such as textiles and artwork.
Massoudi: It includes 1,423 items and the majority are ethnographic items objects that different Afghan tribes use in their daily lives based on their culture and traditions. Fortunately they had been stored in Switzerland by some Afghans and also Europeans who are affiliated with Afghan culture; in the past years they had cooperated with the museum and donated [historical objects] to it. A limited number of archeological objects that were kept in the museum are some of the items that had been lost from Afghanistan's national museum. They include two ivory items from the first and second century, they're from the Bagram historical site. There are also several objects made of stone and glass from the city of Ai-Khanum. Some of these items were excavated illegally.
RFE/RL: Among them is reportedly a foundation stone from the city of Ai-Khanum in northern Afghanistan laid by Alexander the Great.
Massoudi: Yes this item is there, unfortunately this piece had not been found during excavations by French and Afghan archeologists. But it was [discovered] recently during illegal and unauthorized excavations by looters who have damaged the Ai-Khanum historical site very badly. Fortunately the historical artifact was given to Afghanistan's Museum-in-Exile in Switzerland and it was transferred to Afghanistan along with the other items. Unfortunately I don't have more information about it and exact scientific research about this item is needed so that those who are interested in Afghan culture can find out more about it. It has been said that this [object] is from Ai-Khanum and, based on some opinions, this item was touched by Alexander the Great.
RFE/RL:
Is the national museum in Kabul really safe enough for these historical objects?
Massoudi: I hope so. Kabul's situation is good and since the fall of the Taliban there hasn't been any [violent] incident at the national museum. The security situation in the capital is improving and there hasn't been any worrying incident, [therefore] we hope we'll be able to protect [these objects].
RFE/RL: How is the national museum being protected and secured?
Massoudi: The national police are protecting the museum from the outside to a degree that is needed and inside the museum is also protected by the museum's staff during the day and also at night. It's the duty of some of the museum's personnel to stay inside the building 24-hour a day.
RFE/RL: The return of these objects gathered by private collectors and people who worked in Afghanistan obviously means a lot to the Afghan people. Does it mean the country is recovering from its past?
Massoudi: As you know, Afghanistan's national museum suffered the worst damage during the wars. Most of its items and objects were ransacked. Afghanistan's Culture Ministry and the office of the museums see as its duty to work for the return of the objects that belong to the national museum and items that are part of the country's cultural heritage and have been looted, illegally excavated, and transferred outside Afghanistan. The return of this big collection to the national museum is extremely valuable and is a good beginning. I hope other countries that are Afghanistan's friends and have some of Afghanistan's historical objects that have been transferred outside the country illegally will follow the example of Afghanistan's friend, Switzerland. This gives hope to the people of Afghanistan but also for the scientists and all of those who are very much attached to Afghan culture. We hope that it will encourage them so that we can slowly regain some of our lost belongings.
RFE/RL: When will the public in Afghanistan be able to see the historical collection that has returned home?
Massoudi: We are planning to have an exhibition of some of the items in two or three months. We had some problems in the museum but they have been removed: we didn't have shelves for displaying the items, but about a month ago we received some glass cabinets from our friend, Japan. We will use these cabinets [to have] a temporary exhibition of these items for the broader public.
Saving Afghanistan's Heritage
Saving Afghanistan's Heritage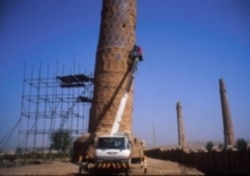 A UNESCO team working to stabilize Herat minarets in 2003 (UNESCO)

THE MINARETS OF HERAT: In Afghanistan's leafy western city of Herat, a two-lane road slices between the city's five remaining 15th-century minarets. Every truck, car, bus, motorcycle, and horse-drawn carriage that passes by sends vibrations coursing through the delicate structures.
In particular, the Fifth Minaret -- all 55 meters of it -- seems ready to collapse into a dusty heap of bricks and colored tiles at any moment. A large crack near its base makes drivers speed up just a little as they pass by....(more)



Click on the image to view an audio slideshow of this story by RFE/RL correspondent Grant Podelco.



RELATED ARTICLES
Afghanistan Protects Storied Bactrian Treasure
Archeologist Hunts For Third Bamiyan Buddha
Musicians Struggling To Revive Classical Heritage After Taliban
ARCHIVE
To view RFE/RL's complete coverage of Afghanistan,
click here
.

SUBSCRIBE
For weekly news and analysis on Afghanistan by e-mail, subscribe to "RFE/RL Afghanistan Report."