An agreement with Mastrogiacomo's Taliban captors had secured his release on March 19, 15 days after he was taken hostage.
Informally, the United States, Britain, Germany, and the Netherlands -- all of whom have NATO troops in Afghanistan -- have all criticized Italy for the deal that won the reporter's freedom.
Increased Risk Of Kidnapping
Afghan President Hamid Karzai has acknowledged that some Taliban militants were freed in exchange for Mastrogiacomo. Italian Foreign Minister Massimo D'Alema has said he will call U.S. Secretary of State Condoleezza Rice to clarify the situation.
"We have put aside our own national interest to save a citizen"
But officials with Italy's NATO allies have been quoted as saying that the deal vastly increases the risks to NATO troops in Afghanistan and has essentially provided the Taliban with incentives to kidnap such troops.
Giovanni Gasparini, an Italian security affairs analyst in Rome, agrees with that analysis, as does Italian Defense Minister Arturo Parisi, according to media reports.
The increased risk to NATO troops is "absolutely certain," Gasparini said. "That's why the minister of defense [Arturo Parisi] was totally not happy about that. That's why in this case, I don't think we have pursued our own national interest. We have put aside our own national interest to save a citizen."
A Political Decision?
Why would Italy do that, even if saving a life is admirable?
Politics is one answer.
Italian Prime Minister Romano Prodi's center-left government was already poised to fall from power in February when it lost a parliamentary vote of confidence over foreign policy -- principally, over Italy's role in Afghanistan, where it has 2,000 stabilization forces.
Italian Communists, who back Prodi's government, strongly oppose the Afghan deployment. Gasparini says that in many ways, the government's fate was tied to that of Mastrogiacomo, a famous journalist who writes for "La Repubblica," a left-leaning daily that supporters Prodi.
"This particular, specific case was complicated by the fact that this was a very well-known journal that is very supportive of the present government," Gasparini said. "And he personally, and the people around him, had very personal contacts with most of the people who are in the government."
If Mastrogiacomo had been killed, Gasparini says, the Communists would have pressured Prodi even more to pull Italian troops out of Afghanistan.
In that sense, Gasparini says Italian Foreign Minister Massimo D'Alema served the NATO coalition's interests. Saving the journalist effectively saved Italy's Afghan mission.
But in the long run, it could spoil it just the same.
Future Consequences
If the hostage deal results in further hostage taking or violence against Italian troops in Afghanistan, there will be increased pressure in Rome for a withdrawal.
Italy has long been under fire from Washington and others for what they see as Rome's willingness to easily come to terms with hostage takers. Whether for Italian oil workers in Nigeria, nationals in Iraq, or journalists in Afghanistan, Italy is widely seen as being very willing to pay to get its people back.
Gasparini says that's not usual. What is unusual, he says, is the way Italy seems to have given up any ability to "plausibly deny" that the prisoner swap came as a price for Mastrogiacomo's release.
"Probably we're not the only country who [meets the demands of hostage takers.] The fact is that we're doing it very publicly, and this time we've been doing it in a very messy and public way. This is the real problem," Gasparini said. "We didn't look for, say, a trade-off that would be hidden somewhere or in a way, not connecting the release of the [Taliban prisoners] to the release of our journalist."
Whether Italy or other NATO nations will begin to pay a price for that tactic remains to be seen.
For now, Prodi can go into a key confidence vote next week in the Senate, where he has but a wafer-thin majority, without the kind of internal dissent in his coalition that an Italian reporter's death in Afghanistan would have created.

The Afghan Insurgency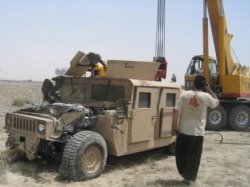 A U.S. military vehicle damaged by insurgents near Kandahar (epa)
HOMEGROWN OR IMPORTED? As attacks against Afghan and international forces continue relentlessly, RFE/RL hosted a briefing to discuss the nature of the Afghan insurgency. The discussion featured Marvin Weinbaum, professor emeritus of political science at the University of Illinois at Urbana-Champaign, and RFE/RL Afghanistan analyst Amin Tarzi.
LISTEN
Listen to the entire briefing (about 83 minutes):
Real Audio
Windows Media
ARCHIVE
RFE/RL's
coverage of Afghanistan
.
SUBSCRIBE
For weekly news and analysis on Afghanistan by e-mail,
subscribe to "RFE/RL Afghanistan Report."