Police say gunmen seized Uruskhan Zyazikov in the village of Barsuki near the republic's capital, Nazran, today.
Police said two of Uruskhan Zyazikov's relatives were injured in the abduction.
Kidnappings and shoot-outs are common in Ingushetia, a Russian region bordering Chechnya.
Murat Zyazikov became Ingushetia's president in 2002 as part of a Kremlin effort to crack down on crime and prevent the Chechen insurgency from spreading.
(Reuters, AP, Interfax, ITAR-TASS)
The Chechnya Conflict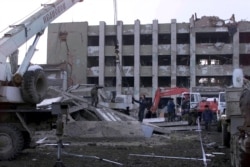 The aftermath of a December 2002 Chechen resistance attack on the main government building in Grozny (epa)


CHRONOLOGY
The
fighting in Chechnya
has raged, with short breaks, since 1994. It has brought misery, death, and destruction to the North Caucasus republic and to Russia as a whole. View an
annotated timeline
of the conflict.

ARCHIVE
RFE/RL's complete coverage of Russia's war-torn Republic of Chechnya.