The 73-year-old Ioseliani studied music at the Tbilisi Conservatory, mathematics at Moscow State University, and filmmaking at Moscow's renowned VGIK film institute, under Soviet master Aleksandr Dovzhenko. His films were repeatedly banned in the Soviet Union, prompting Ioseliani to emigrate to France in 1982. He has since been the recipient of numerous international film awards, and is now widely regarded as one of the living legends of European "auteur" cinema. RFE/RL's Georgian Service Director David Kakabadze spoke to Ioseliani about the joys and difficulties of life and filmmaking.
RFE/RL: You've been directing films for more than 40 years already; nearly half a century. What continues to attract you to filmmaking?
From an artistic perspective, I think black and white cinema is still the best. It's very pleasant to watch; the content is more accessible.
Otar Ioseliani: You know what? I'm a bit concerned about the fact that children today don't read books. They don't listen to music. They just sit in front of computers. I think cinema is still the most vivid and stimulating tradition there is. You're able to feel or realize things in the course of just two hours. Therefore, I think my colleagues and I have an immense responsibility. You can't give your audience hypocritical views or false feelings. If we are honest, children will learn, will take the information in. However, to Georgia's misfortune, we no longer have cinema. Cinema has been sold; it's become a marketplace. What used to be a film studio now houses sausage or champagne factories. These spaces are even used to manufacture coffins. Half of it was sold or rented to television. They built a church out of concrete and put a priest in there -- the management of the film studio had this idea that prior to shooting, film directors and cinematographers would go inside the church, cross themselves....
RFE/RL: ...and a good film is guaranteed?
Ioseliani: A good film is guaranteed.
RFE/RL: In spite of all that, it's still been possible for several new films to be made in Georgia. And these films are distinguished by the fact that they were also financed in Georgia -- not through government funding, but by other means. It seems that the business world has become interested in Georgian cinema. Do you think this handful of new films are an indication things are set to improve?
Ioseliani: In my opinion, when someone funds a film, he or she has requirements to which the film has to conform. This, in fact, is the worst form of censorship. When, in Giorgi Shengelaia's film "Pirosmani," Niko Pirosmani is painting and someone dictates to him what to make black and what to make white, he throws his paintbrush down and walks away, telling the man to paint the picture himself.
RFE/RL: You've been living in France for more than 25 years. What was more difficult -- making films in the Soviet Union at the time you were, or making them now in France?
Ioseliani: There was an institution in the Soviet Union, based in Moscow, called the State Committee for Cinematography. The system was very well-organized. The committee had a single function -- censorship. First they censored the script, and later the actual film; they attended the actual shooting of the film, in order to ensure that everything was "in order," the way the regime wanted it to be. However, it's interesting to note that these bureaucrats and administrators were as intimidated by the system as we were. So they really respected those individuals who did not conform to the rules. They were even helping us -- "us" being Giorgi Shengelaia, Gleb Panfilov, [Aleksandr] Askoldov, [Andrei] Tarkovsky, [Sergei] Parajanov. They would give us advice, or even come up with a kind of formula to make sure a film successfully passed a certain stage [with the censors]. That's how all the scripts were actually filmed.
RFE/RL: Still, Askoldov's film "The Commissar" was shelved for more than 20 years.
Ioseliani: So what? My film, "Song About a Flower" [1959], was also shelved, for 35 years -- but it still exists! In Georgia we now have "Eliso" [1928, Nikoloz Shengelaia]; we have "Paradise Lost" [1937, Davit Rondeli]; we have "Pirosmani" [1969, Giorgi Shengelaia]; we have Eldar Shengelaia's films, "An Unusual Exhibition" [1968] and "Blue Mountains" [1986]. These films are reflections of sadness -- they reflect the harsh environment in which we had to live, and these films remain as messages to future generations.
RFE/RL: We also have your "Falling Leaves" from 1966 and "There Once Was a Song Thrush" from 1970. But let's talk about your relocation to France. Moving there was not only an encounter with a new world, it was also an encounter with a new technique -- making films in color. Color cinema had existed in the Soviet Union for some time already, but out of principle you chose to stick to black and white. Were you forced to give up this principle in France? Or did you choose yourself to abandon it? Perhaps you felt that since you were in France, making color films had become a justified venture?
Ioseliani: From an artistic perspective, I think black and white cinema is still the best. It's very pleasant to watch; the content is more accessible. In color film, if you're trying to shoot in a way where the color isn't visible....
RFE/RL: You mean, not dominant?
Ioseliani: Yes, not dominant. You can achieve this effect. However, in France -- and everywhere else in Europe today -- if you don't make color films, you won't get financial support from television. Therefore, in France, producers asked me: "What should we do? We know you want to make black and white films." But then they would add: "This would mean we'd lose two-thirds of our budget." They didn't know what to do. So I said all right, I'll do it in a way where it will be in color, but the color will not be too visible. These days, I can afford to make black and white films -- but the culture of black and white cinema has vanished.
RFE/RL: But U.S. director Woody Allen managed to make a black and white film several years ago.
Ioseliani: Who?
RFE/RL: Woody Allen.
Ioseliani: Yes, but these films are badly made. This is just color cinema shot on black and white film. Black and white cinema has its own rules and secrets, which are now lost. In Georgia, [cinematographer] Levan Paatashvili was a real connoisseur of black and white cinema. A phenomenal professional! Take "Somebody Else's Children" [1958, directed by Tengiz Abuladze] Watch how it's made! This is the work of an outstanding cinematographer.
RFE/RL: So you're not going to make any more black and white films?
Ioseliani: Why not? I'd be glad to do it. But where? Will anyone have enough patience to let me shoot a black and white film? Will I be able to find a cinematographer for this kind of endeavor today? I don't think so.
RFE/RL: One more aspect I want to touch upon is the element of sound -- or "noise," if we can put it this way -- in your films. A few days ago I watched "There Once Was a Song Thrush" again. This film is full of sounds -- the sounds of life. There's a radio playing in the morning, you can hear children playing, a car is starting up or driving by... Or let's take "Falling Leaves" -- in this film, each new day begins with stunning songs by Inola Gurgulia. What is your attitude toward music as a component of your films?
Ioseliani: We've gotten used to music in films. But music carries the function of acting like a crutch for those colleagues who think they can't make a film without it. Think about it -- when a certain film is shown on TV, music starts at the outset and continues on until the end. Sometimes it distracts the viewer or destroys the content, but still it continues. It also continuously warns us -- here comes the tension; now everything's all right; beautiful things, love and kindness, prevail; and so on. Music in films is the last resort for those people who can't really make films. In my pictures, I use music only in those cases when I know where it is coming from. Either someone is playing music behind the window, or we concretely see who is playing what. The rest is just an assembly of sounds that exist around us -- and if this is taken care of, it creates a fabulous score. Therefore, whether it's "noises" or music -- all of this creates a background of sound. What I try to avoid is to give a primary role to words. I think I manage to make my films accessible to audiences that do not even know the language spoken in the film. Sometimes, these audiences understand even more than those who do speak the language.
RFE/RL: "Pastorale" [1975] is a good example of this, isn't it?
Ioseliani: Yes, it is. In our country, Georgia, one-fifth of the population speaks a beautiful language, Mingrelian.
RFE/RL: But four-fifths do not.
Ioseliani: That's true. But everyone understands what's going on.
RFE/RL: Editing is another issue I want to ask you about. You taught film editing at the Tbilisi Institute of Film and Theater for years, and stories circulated that Otar Ioseliani didn't really need an editing desk -- that, because of his background in mathematics, he was able to cut a film directly, with scissors. How much truth is there in this legend? There's a second part to this question. Having moved to France, and having witnessed the digitalization of every part of filmmaking, what has this meant for your work? What did you lose and what did you gain?
Ioseliani: You know, I was so deeply in love with this craft that I even considered becoming an editor rather than a director. Because an editor manages the whole architecture and structure of the film -- and this closely matches musical form. It's very difficult to explain this phenomenon. I always feared catastrophic results once filming was complete. I never thought anything good would come of the filmed material. And it was only through editing that I was able to save my films. This is what I think about it. Because if you put pieces in the order in which they were shot, it'll be an absurdity. This is why it is necessary to think and to move cuts around, to find the rhythm, the tempo. All of this happens in the process of montage. Therefore, you don't really need a desk in order to edit a film. The main thing is to think. Thought, dimension, and rhythm. What did we edit with in the past? We had old cutting devices called Moviolas. We used to look at stills through magnifying glasses. Things are different today -- we work with computers. The computer has one big negative quality: it's become possible to make countless versions while editing. I, however, insist that computers should be treated like film reels. One should know that once a cut has been made, it can't be restored.
(translation by Salome Asatiani)

Otar Ioseliani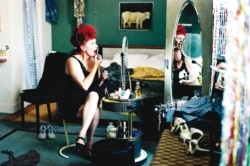 A scene from Otar Ioseliani's 2006 film, "Autumn Gardens" (courtesy photo)
SELECTED AWARDS:
The International Federation of Film Critics (FIPRESCI) award at the Critics' Week (Cannes Film Festival) for "Falling Leaves" (1968)
FIPRESCI award (32nd Berlin Film Festival) for "Pastorale" (1982)
Special Jury Award -- Silver Lion (41st Venice Film Festival) for "Favorites Of The Moon" (1984)
Special Jury Award -- Silver Lion (46th Venice Film Festival) for "And Then There Was Light" (1989)
Special Jury Award -- Silver Lion (53rd Venice Film Festival) for "Brigands, Chapter VII" (1996)
European Film Academy's European Critic's Award -- Prix Fipresci -- for "Farewell, Home Sweet Home" (1999)
Prix Louis Delluc for the Best French Film of the Year for "Farewell, Home Sweet Home" (1999)
Silver Bear for Best Director (52nd Berlin Film Festival) for "Monday Morning" (2002)
FILMOGRAPHY:
"Watercolors" (1958)
"Song About A Flower" (1959) Doc
"April" (1961)
"Cast Iron" (1964) Doc
"Falling Leaves" (1966)
"Ancient Georgian Songs" (1969) Doc
"There Once Was a Song Thrush" (1970)
"Pastorale" (1976)
"Seven Pieces For Black And White Cinema" (1982)
"Euzkadi ete 1982" (1983; documentary)
"Favorites Of The Moon" (1984)
"A Little Monastery In Tuscany" (1988; documentary)
"And Then There Was Light" (1989)
"Chasing Butterflies" (1992)
"Alone, Georgia" (1994, documentary)
"Brigands, Chapter VII" (1996)
"Farewell, Home Sweet Home" (1999)
"Monday Morning" (2002)
"Autumn Gardens" (2006)