The session is due to be attended by Serbian Prime Minister Vojislav Kostunica, who is expected to reiterate Belgrade's opposition to the plan put forward by UN envoy Martti Ahtisaari.
Kostunica has said Serbia is hopeful that Russia, a veto-holding member of the Security Council, will enable Serbia to maintain its territorial integrity.
Russia has not said whether it will use its Security Council veto on the proposal. Moscow has backed further talks between Serbians and Kosovo's ethnic Albanian majority, even though neither side has so far shown signs of possible compromise.
U.S. Assistant Secretary of State Daniel Fried on April 2 warned of the possibility of chaos and violence in Kosovo if the proposal is not accepted by the Security Council. Fried said the "status quo in Kosovo is not sustainable."
The territory has been run by the UN and NATO-led peacekeepers since the 1999 NATO air war ended a Serbian crackdown on ethnic-Albanian separatists.
(compiled from agency reports)
The Kremlin Looks At Kosovo...And Beyond
The Kremlin Looks At Kosovo...And Beyond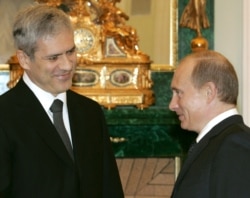 Russian President Vladimir Putin (right) greets Serbian President Boris Tadic in the Kremlin in November 2005 (TASS)
WILL THE KREMLIN BACK INDEPENDENCE? As the drive for independence grows in the Serbian province of Kosovo, the international community is speculating on how Russia, a veto-wielding member of the UN Security Council, will act. On September 22, Nicholas Whyte, director of the International Crisis Group's Europe Program, gave a briefing on the subject at RFE/RL's Washington, D.C., office. He speculated on what the Kremlin's "price" might be for agreeing to Kosovo's separation from Serbia.
LISTEN
Listen to the entire briefing (about 45 minutes):
Real Audio
Windows Media
RELATED ARTICLES
Referendums Seen As Kremlin's Master Plan
Independence Votes Popular In The Kremlin
Putin Warns Against Montenegro Model
How Does Moscow View Frozen CIS Conflicts?
Putin Calls For 'Universal Principles' To Settle Frozen Conflicts
ARCHIVE
RFE/RL's coverage of
Kosovo
and
Russia
.
SUBSCRIBE
For news and analysis on Russia by e-mail,
subscribe to "RFE/RL Russia Report."