UN special envoy Martti Ahtisaari drafted the plan, which supports eventual independence from Serbia for the mainly ethnic Albanian region.
Russia, which has close ties to Belgrade, has objected to the plan, saying that it ignores the interests of the Serbs.
Vitaly Churkin, Russia's ambassador to the UN, said today that Moscow has "some issues" with the proposal.
Churkin added, however, that he did not want to discuss the plan "behind the back of Mr. Ahtisaari, with whom Russia has had all sorts of very close relationships in the past."
The Russian ambassador said he was "looking forward to discussing" Moscow's objections "in the presence of Martti Ahtisaari when he comes here to [the] Security Council."
Ahtisaari's proposal, which foresees "supervised independence" for Kosovo, is backed by Western powers.
Moscow has said it will oppose the plan if Serbian interests are ignored and has called for a negotiated solution acceptable to both the province's ethnic Albanians and minority ethnic Serbs.
But on March 27, Churkin proposed that Security Council members visit Kosovo and review the implementation of UN Resolution 1244.
That resolution gave the UN responsibility for running the province in 1999 after a NATO bombing campaign ended Serbia's crackdown against Kosovar Albanians:
"To us it is logical, and in fact imperative, to see where the international community stands on the implementation of Resolution 1244 before we can -- with all the responsibility invested in us by the international community -- consider Mr. Ahtisaari's proposal," Churkin said.
Churkin said that the response to his proposal was "quite interested and positive."
South Africa's ambassador to the UN, Dumisani Kumalo, said that he thought the council could benefit from a trip to Kosovo.
But he said other Security Council members thought it was time to move on to other issues.
The council is expected to discuss Ahtisaari's Kosovo proposal at a closed hearing in April.

Universal Principles?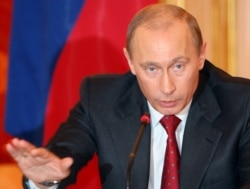 President Putin at a Kremlin meeting in April (epa)
PUTIN SPEAKS OUT: During a January press conference, Russian President Vladimir Putin said there is a need for "universal principles" to settle "frozen" conflicts in the CIS. His comments came against the background of impending talks on the future status of Kosovo, which many predict will grant it a form of "conditional independence" from Serbia and Montenegro. As an ally of Serbia, Moscow has consistently opposed the idea of Kosovar independence. Putin's remarks suggest he may be shifting his position, but only if the principles applied to Kosovo are also applied to frozen conflicts in the former Soviet Union. If Kosovo can be granted full independence, he asked, why should we deny the same to Abkhazia and South Ossetia? (more)
RELATED ARTICLES
Putin Calls For 'Universal Principles' To Settle Frozen Conflicts
Russia Key To OSCE's Attempts To Resolve Frozen Conflicts
Georgia Pushes For EU Backing In Standoffs With Russia
ARCHIVE
Click here to view archives of RFE/RL's coverage of the conflicts in Abkhazia, Chechnya, Kosovo, Nagorno-Karabakh, Ossetia, and Transdniester.