Gunmen Kill Three In Attack On Armenian Mayor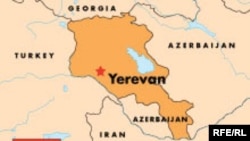 (RFE/RL) YEREVAN, April 3, 2007 (RFE/RL) -- The mayor of Armenia's second-largest city, Gyumri, remains in serious condition in hospital after being shot by gunmen late on April 2, RFE/RL's Armenian Service reported.
Gunmen opened fire on a two-car convoy taking Mayor Vardan Gukasian from the capital, Yerevan, to Gyumri.
Three people in the convoy died at the scene. Gukasian's deputy, Gagik Manukian, and his driver are also hospitalized in serious condition.
The cause of the attack remain unclear.
Gukasian, a member of Armenia's ruling Republican Party, was returning from a party vote to nominate Defense Minister Serzh Sarkisian as Armenia's new prime minister. His nomination follows the sudden death from a heart attack last month of Andranik Markarian.
"This happened after the meeting of the Republican Party's ruling body," explained Republican Party member Ashot Aghababian. "I think law-enforcement agencies must do all they can to find out what happened."
Aghababian said he believed the attack targeted the party as a whole.