Armenian Republican Party Nominates Sarkisian To Be Premier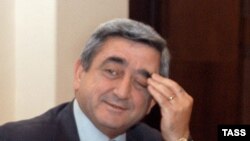 The road has been paved for Sarkisian to be prime minister (file photo) (ITAR-TASS) April 2, 2007 -- Armenia's leading Republican Party today nominated its acting head, Defense Minister Serzh Sarkisian, for the post of prime minister, paving the way for his official appointment.
President Robert Kocharian is now expected to sign a decree endorsing Sarkisian 's candidacy.
Previous Prime Minister Andranik Markarian, who led the Republican Party,
died of a heart attack
on March 25.
(Reuters)