RFE/RL: Could you please tell us what we know about the death of Khamail?
Nabil Al-Haidari: Khamail, our colleague, was kidnapped on Tuesday afternoon [April 3] on her way from the bureau to her house. And in the early morning on Thursday [April 5] her body was found near to the area of her residence in Al-Karkh part of [central] Baghdad.
RFE/RL: How should we interpret what happened?
Al-Haidari: It is a message from the insurgent groups who don't like life, who don't like truth. And by the way, Khamail's work always gave attention to reports talking about the lives of simple people, for Iraqi families, for the children, for the women. She never worked in the political area; she liked social stories. In all her reports, when I relistened to [some of] them yesterday and the day before, I felt she was trying to be the real and true voice of simple Iraqi people.
RFE/RL: You say that Khamail had received death threats, both as a journalist and an individual. What was the reason for some of these threats?
Al-Haidari: Khamail received [some death threats] because she lived in an area where there is a lot of activity by extremists who are trying to displace some people from their district on a sectarian basis. And Khamail got many threats at her residence. And for that reason she transferred two of her daughters, children, to Syria from Iraq and stayed behind alone to keep fighting for life and to get her salary to feed herself and to feed her children abroad.
RFE/RL: Khamail was a very well-known journalist in Iraq, a professional with decades of experience. Could you tell us a little bit about why she was so well known?
Al-Haidari: She got a baccalaureate in English literature at the end of the 1970s and she worked from the end of the '70s in Iraqi television, it was at that time the only channel, the national Iraqi television, from that time until around 2003 or 2002, before the change of regime in 2003. She was well-known as an announcer, television star, all the people knew her that way because she was a television star for some 26 or 27 years. And after the war, after a few months, she joined us.
RFE/RL: The loss of your colleague is another blow to journalists in Iraq at time when those in the media remain under constant threat. How do you and other Iraqi journalists respond?
Al-Haidari: It is a message with two meanings. One is to keep strong in face of this life and its difficulties and continue the jobs and messages we want in our lives, especially the media message, the message of truth that all of my colleagues share as a value in their life, and to work with a radio that is respected by the Iraqi people these days, Radio Free Iraq.
'Attacks On The Press -- 2006'
'Attacks On The Press -- 2006'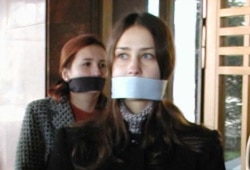 Ukrainian journalists demonstrating against censorship in December 2006 (RFE/RL)


'DOMINO EFFECT.' Two experts with the Committee to Protect Journalists told an RFE/RL-Radio Free Asia briefing on February 6 that their organization is concerned Russia's increasingly restrictive media environment is being copied by other countries in the CIS.
LISTEN
Listen to the entire briefing (about 80 minutes):

Real Audio
Windows Media
RELATED ARTICLES
New Program Finds Way Around Internet Censorship
CPJ Discusses Dangers, Obstacles Journalists Face
East: RSF Calls Iraq, Iran 'Graveyard Of Freedom'
Media Situation Worsening In Central Asia, Russia, Azerbaijan
SUBSCRIBE
For regular news and analysis on media issues throughout RFE/RL's broadcast area by e-mail,
subscribe to "RFE/RL Media Matters."