About 400 demonstrators gathered for about an hour, surrounded by hundreds of Interior Ministry troops and police.
They held banners and speakers at the rally called for Russia to expand its clout in the former Soviet lands.
Authorities had denied a request by organizers to allow a march through a major downtown thoroughfare.
Speakers included Eurasian Movement leader Aleksandr Dugin and others who back a more assertive Russian role in the former Soviet Union.
The rally concluded peacefully.
(AP)
Rising Russian Nationalism
Rising Russian Nationalism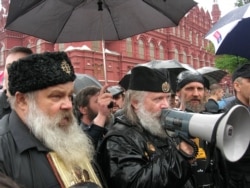 Orthodox believers and nationalists heckling a gay-rights rally in Moscow in May 2006 (RFE/RL)
A THREAT TO CIVIL, RELIGIOUS LIBERTIES: Several leading experts told a briefing hosted by RFE/RL and the U.S. Commission on International Religious Freedom that several mounting trends in Russia are posing a growing threat to human rights, especially for members of the country's ethnic and religious minorities.
LISTEN
Listen to the entire briefing (about 90 minutes):

Real Audio
Windows Media
RELATED ARTICLES
Why Putin Is Going To The Vatican
Bishop Assails Russian Orthodox Church

A thematic webpage devoted to issues of religious tolerance in RFE/RL's broadcast region and around the globe.