Iran, Afghanistan Sign Border Agreement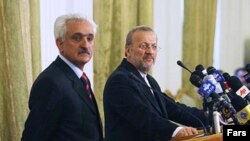 Spanta (left) and Mottaki speaking with journalists in Tehran on April 10 (Fars) April 11, 2007 -- Iran and Afghanistan have signed a memorandum of understanding on organizing and modernizing border demarcation and documentation.
The document was inked in Tehran today by Iranian Foreign Minister Manuchehr Mottaki and his Afghan counterpart, Rangin Dadfar Spanta.
Iran's IRNA news agency reports that the agreement is aimed at promoting bilateral ties and mutual respect for the two countries' sovereignty.
(IRNA)