Russia: Billionaire Set To Buy Back Cheburashka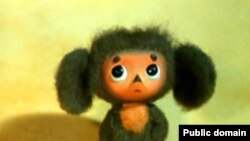 Will Cheburashka find his way back to Russia? (Public domain) MOSCOW, April 13, 2007 (RFE/RL) -- He has delighted generations of Russian children, but now Cheburashka, a cuddly cartoon character with oversize ears, is at the center of a multimillion-dollar bid to secure his rights.
Alisher Usmanov, a metals mogul, says he wants to buy back the international rights to Cheburashka from the U.S. firm Films by Jove. Usmanov is ranked as Russia's 25th richest man by "Forbes" magazine, with a fortune of $3.1 billion.
The Moscow office of Usmanov's Metalloinvest holding company told RFE/RL it would not comment on the deal until it had been completed. But Usmanov told Russian media this week the talks had been tough: he has offered $3 million for the cartoons, but Films by Jove want $10 million, he said.
'Our Heritage'
Usmanov says he is a fan of Soviet cartoons and wants to give the collection of more than 500 classic cartoons to a children's television channel that has been proposed by President Vladimir Putin. He said the films were "our heritage and must be returned to Russia."
The cartoon character was the symbol for the Russian team at the 2006 Winter Olympics. In Japan, he's become a cult phenomenon.
The collection includes four short films featuring Cheburashka, a furry creature, "not known to science," who hails from a tropical rain forest and is discovered in a crate of oranges.
The collection was sold to the United States after the collapse of the Soviet Union in 1992. Ernest Rakhimov, the director of the Russian Union of Animators' archive, said the collection comprised some of Russia's earliest animation classics.
"There are lots of films in that collection -- about 60 or 70 hours' worth," Rakhimov says. "The best are the old films -- 'The Humpbacked Horse,' 'The Scarlet Flower,' 'The Snow Queen.' They're sitting on a gold mine. It's an early collection, early animations -- those animations were done to the same standard as Disney films."
Post-Soviet Deal
But the Animators' Union disputes the 1992 sale to the United States and is fighting a legal battle in the Russian courts.
"When perestroika began, there weren't any proper laws regarding film rights," Rakhimov says. Films by Jove, he claims, "managed to trick the previous animators' administration, and they signed a contract that turned out to have taken away our freedom."
Films by Jove says it has paid nearly $900,000 in acquisition and legal fees, and that the contract also guarantees payment of nearly 40 percent of the profits. The 1992 deal, the company says, also includes merchandising rights.
Eduard Uspensky, the creator of Cheburashka, says he hopes the court will decide the films can be returned to Russia without Usmanov having to resort to his checkbook. Cheburashka, he says, "should soon become Russia's coat of arms."
Cartoon Star
Cheburashka was the symbol for the Russian team at the 2006 Winter Olympics and in Japan he has become a cult phenomenon. Uspensky explained how he came up with the idea for the cartoon, which he created in 1969.
"One day, during the Bolshevik era, I saw this tiny girl," Uspensky says. "And she was wearing a beaver coat, an enormous flappy thing. And this little girl took a step without any help, and she fell over. And when she fell her parents said, "Look, you've cheburakhnulas [fallen over]! You little 'cheburashka'!" And I hadn't heard the word before, it was a very rare word. And so that little girl, with this vast collar around her head, gave me the idea for the cartoon."
Cheburashka is a furry creature, "not known to science," who hails from a tropical rain forest and is discovered in a crate of oranges.
According to his cartoon, Cheburashka was born in a tropical forest. But he accidentally fell into a crate of oranges, which were shipped to Moscow. The animations chart his adventures with his best friend, a pragmatic crocodile called Gena.
Cheburashka enchanted a generation of Soviet children and is still shown on prime time children's television today.
Eight-year-old Sanya says he's his favorite cartoon character. "He's got big ears, he's round, and he's brown," he says, enumerating his positive qualities.
"He's so round!" Sanya's younger brother, George, chimes in.
Returning Home
Buying back the cartoons would give Russia exclusive international rights to Cheburashka and the rest of the collection.
Usmanov is not the first Russian businessman to want to buy back Russia's heritage, perhaps to win favor with the president in the run-up to elections later this year.
In 2004, Viktor Vekselberg, another billionaire, bought one of the largest collections of Faberge eggs from the Forbes family for more than $90 million.
The national treasures went on display in the Kremlin, which said it was pleased with the purchase.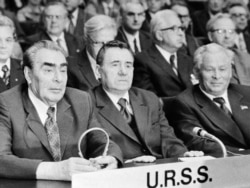 Leonid Brezhnev (left) with Andrei Gromyko (center) and Konstantin Chernenko at an international conference in Helsinki in 1975 (TASS)

LOOKING BACK. December 19 marks the 100th anniversary of the birth of former Soviet leader Leonid Brezhnev. People throughout the former Soviet Union are reflecting on the long years of his rule (1964-82)....(more)
LISTEN
Listen to the Soviet announcement of Brezhnev's death on November 10, 1982 (about two minutes in Russian):
Real Audio
Windows Media
LISTEN
Listen to Leonid Brezhnev, speaking on the occasion of the 60th anniversary of the Bolshevik Revolution in 1977 (about 4 1/2 minutes, in Russian):
Real Audio
Windows Media
COVERAGE FROM RFE/RL'S LANGUAGE SERVICES:
Russian Service (in Russian)
Russian Service (in Russian)
Kyrgyz Service (in Kyrgyz)
Kazakh Service (in Kazakh)
Tajik Service (in Tajik)
Tajik Service (in Tajik)
Georgian Service (in Georgian)
Georgian Service (in Georgian)
Belarus Service (in Belarusian)
Tatar-Bashkir Service (in Tatar)