Zeidabadi also asked Khamenei why Iranians should share his view on the nuclear issue.
The journalist also expressed regret that those who favor flexibility on that issue are portrayed as "enemies" of the Islamic establishment.
Zeidabadi argues that due to the importance and sensitivity of the issue, the establishment should allow differing views to be expressed freely.
In recent weeks, a number of activists have called on Iran to suspend its sensitive nuclear activities and return to the negotiating table.
Zeidabadi says many Iranians are concerned about the nuclear issue and the future of their country.
Zeidababi has been jailed several times in Iran because of his critical articles. Charges against him have included acting against Iran's national security and insulting Iran's leaders.
Under Iran's constitution, the supreme leader is the highest political and religious authority in the country.
(iran-emrooz.net)
DISSENT IN IRAN
A Bid For Intellecutal Pluralism

Dissident philosopher Ramin Jahanbegloo tells RFE/RL that Iranian intellectuals must strive to avoid being cut off from global issues and debates.

more

Iranian Women Struggle To Be Heard

Prominent Iranian activist Mahboubeh Abbass-Gholizadeh tells RFE/RL that the protests of women's rights advocates can and do have an effect on the government's policies. But much remains to be done.

more
What The Street Thinks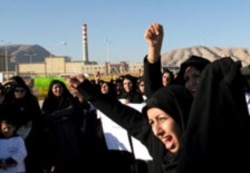 A demonstration in support of Iran's nuclear program outside the Isfahan uranium-conversion facility in Isfahan in January (epa)

IRANIANS SPEAK OUT ON THE DISPUTE: To find out more about what Iranians think about the international controversy over their country's nuclear program, RADIO FARDA asked listeners to express their views....(more)
See also:
Iran: Public Has Mixed Feelings On Nuclear Issue

THE COMPLETE PICTURE: RFE/RL's complete coverage of controversy surrounding Iran's nuclear program.
CHRONOLOGY
An annotated timeline of Iran's nuclear program.