PRAGUE, July 14, 2006 (RFE/RL) -- Borhan is among the activists who have begun a hunger strike to protest the detention of those who are imprisoned in Iran because of their beliefs.
He spoke to RFE/RL from the German city of Cologne. "Our demand is the freedom of all political prisoners in Iran; we are about 40 to 50 people [and] in the next three days we will try to continue the hunger strike with different programs," he said.
"I think these actions could in the longer term work as a brake against the arrest and harassment of political activists in [Iran]."
International Effort
Others in cities across the world, including Tehran, London, Paris, and Toronto have also said they will go on a three-day hunger strike to draw attention to the plight of prisoners of conscience in Iran.
Journalist and activist Ami Farshad Ebrahimi is in Ankara.
"The protest action will begin today at 5 p.m. in front of Iran's Embassy or a bit further down in a park; me, a group of Iranian refugees, rights activists, and journalists, we will begin our hunger strike there," Ebrahimi said.
The campaign is being supported by more than a thousand Iranian activists around the world.
In Iran several well-known political, social, and cultural activists have expressed support for the campaign and called for the release of all political prisoners.
Among them is former reformist legislator Bahaeddin Adab, who tells RFE/RL that there are no exact figures on the number of political prisoners in Iran.
"Currently we have in our country a significant number of well-know political prisoners but also political prisoners who are unfortunately less known," Adab said. "In Kurdistan I can tell you with certainty that we have many political prisoners that are never mentioned. I support these peaceful actions in support of the rights of all political prisoners."
Strike A Response To Ganji's Call
The global hunger-strike campaign follows a call by outspoken dissident journalist Akbar Ganji, who spent more than five years in prison because of articles he wrote that were critical of the government.
Ganji said he wants to bring the world's attention to "the vast human rights violations" in Iran.
He is due to begin his hunger strike in London before flying to the United States. On July 15, Ganji will join other activists who will protest in New York.
Prominent writer and human rights activist Mohammad Amini is one of the spokespersons of the hunger strike campaign in New York.
Amini believes pressure on Iran helped secure Ganji's release from prison.
"The struggle for human rights in Iran, democratic freedoms, and the release of political prisoners is something that should be pursued consistently so that it reaches results," Amini said. "In the case of Mr. Ganji, the protests of people in Iran and abroad was heard globally and it had some influence in Iran."
Support From All Quarters
In recent weeks, Iran has come under increasing pressure to free political prisoners.
The Tehran-based Center of Human Rights Defenders, headed by Nobel Peace Prize laureate Shirin Ebadi, called on July 8 for the unconditional release of all of Iran's political prisoners, including students, writers, and workers.
On July 13, Amnesty International renewed its calls for the release of prominent philosopher Ramin Jahanbegloo, Tehran Bus Company Union leader Mansur Osanlu and also former reformist legislator Ali Akbar Musavi-Khoeni.
Iran has accused Jahanbegloo of antiregime activities.
The charges against Musavi-Khoeni and Osanlu are not clear but human rights defenders believe the three are being held only because of their peaceful activities and their opinions.
Iranian officials deny the existence of political prisoners in the country. Dissidents and intellectuals are often charged with "endangering national security."
Amini tells RFE/RL that despite Tehran's apparent indifference, human rights activists are determined to press for the release of political detainees in Iran.
"Not only these three individuals but hundreds of other people -- with or without a known name -- are held in the Islamic Republic's prisons; some of them have been in prison for years; we should do our best to press for their freedom because nothing is more dreadful than being imprisoned for having a critical political view," he said.
Ebrahimi believes the current campaign and similar actions could have an effect in the long term.
"It's not possible that the Islamic republic would free these people after three days of a hunger strike, we all know that's not going to happen; but I think these actions could in the longer term work as a brake against the arrest and harassment of political activists in [Iran]," he said.
The campaign marks the first time in the last three decades that Iranians with different political views and backgrounds have joined efforts to protest against a crackdown on human rights activists, students, and others.
MORE: For coverage of this topic from Radio Farda in Persian, click here and here.
U.S. Report On Global Human Rights
U.S. Report On Global Human Rights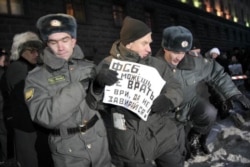 Police in Moscow arrest human rights demonstrators on February 1 (courtesy photo)
THE RECORD ON RIGHTS: On March 8, the U.S. State Department issued its global report on human rights. According to the report, 15 years after the breakup of the Soviet Union, human rights are improving in many post-communist countries. But problems persist in others, it says, despite the worldwide explosion of information and Western efforts to spread democracy. (more)
For more detailed information, see:
Azerbaijan Cited For Political Harassment, Police Brutality
Child Labor, Human Trafficking Cited In U.S. Report On Afghanistan
U.S. Says China, Iran 'Most Systematic' Rights Violators
Human Rights Not A Priority In Central Asia, U.S. Report Says
U.S. Report Points To Serious Abuses In Iraq
Abuses In Chechnya, Centralized Power Cited In U.S Report On Russia
U.S. Says Serious Human Rights Violations Occurring In Iran



SUBSCRIBE
For a regular review of civil-society developments throughout RFE/RL's broadcast region,
subscribe to "RFE/RL (Un)Civil Societies."