PRAGUE, June 5, 2006 (RFE/RL) -- Ganji dedicated his award to the casualties of the "series" of killings in 1998 and what he suggests is the subsequent cover-up.
"This prize should go to those who on the path of fighting for freedom and human rights were slaughtered during the serial murders," he told attendees of today's ceremony.
Authorities have blamed the deaths on rogue elements in the Intelligence Ministry. But Ganji -- in articles and in a compilation titled "Dungeon Of Ghosts" -- has implicated senior Iranian officials. They include former President Ali-Akbar Hashemi-Rafsanjani -- who now chairs the powerful Expediency Council -- and former Intelligence Minister Ali Falahian.
Dedicated To The Victims
Speaking today, Ganji dedicated his prize to the political prisoners who were executed in prisons across Iran in late 1980s and to other victims of human rights abuses.
"This prize belongs to all of those who were tortured and paralyzed merely because they worked in journalism and defended freedom of thought," Ganji said. "The prize should go to all the dissidents who were imprisoned in past years and deprived of their social rights. The prize should belong to all those [critics and independent thinkers] who, because they dare to think differently, have been forced into exile and continue to live while remembering Iran and cannot return to the country."
Ganji also said he accepted the prize on behalf of the groups that are fighting for human rights in Iran.
Punished, Not Silenced
Ganji was sentenced to six years in prison in 2001 on several charges, including threatening Iranian national security and insulting the country's leaders. He was released in March.
He spent most of his prison term in solitary confinement while reportedly being pressured to give up his writing and opinions.
Ganji launched a hunger strike in 2005 to demand his release that lasted more than 40 days. While on medical leave last year, he called for a boycott of Iran's presidential elections.
Ganji published a two-volume book from prison in which he challenged the authority of Iran's supreme leader and said real democracy cannot be achieved under the country's current system.
In Moscow today, Ganji said his slogan in fighting oppression and violence is, "Forgive, but never forget." Ganji also urged his audience to remember the conditions that led to the creation of fascism and totalitarianism, and other forms of dictatorship.
More Appearances, Then Back To Iran
After his trip to Moscow, Ganji is scheduled to continue his international travels for appearances in Germany, Italy, and the United States.
In an interview with Radio Farda today, he vowed to return to his homeland, where -- despite his persistent calls for justice and reform in the highest echelons of power -- he does not fear arrest.
"Today more than 1,700 representatives of important newspapers and publications were here. They all gave me a warm welcome," Ganji told Radio Farda. "The ambassadors of different countries, even Islamic countries, also expressed their solidarity. And some of them asked me with humor, 'Why is the Iranian ambassador not present?' There is moral international support for Iranian free thinkers; but at the same time whoever fights for democracy, freedom, and human rights in countries like Iran should know that there are threats and there is a price to pay for democracy. I've been six years and three months in prison, and I'm used to the life there."
Ganji is the second Iranian journalist to have won the Golden Pen of Freedom award. In 1999, Faraj Sarkuhi received the award. Sarkuhi is the former editor of "Adineh" magazine, and now lives in exile in Germany.
(RFE/RL's Russian Service contributed to this report.)
Press Under Assault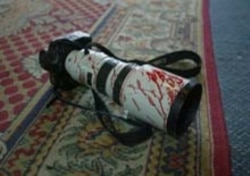 (AFP)
BREAKING THE NEWS: Press freedom is under assault in virtually all of the countries of the former Soviet Union. Independent media confront enormous challenges in providing citizens with the independent information that can help advance democratic reforms. On May 2, RFE/RL's Washington office hosted a roundtable briefing that gave an overview of media developments in the CIS and discussed the connections between press freedom and future democratization. The briefing featured Freedom House Director of Studies CHRISTOPHER WALKER, American University Associate Research Professor ROBERT ORTTUNG, and RFE/RL Central Asia analyst DANIEL KIMMAGE.
LISTEN
Listen to the entire briefing (about 90 minutes):
Real Audio Windows Media
RFE/RL's Press Freedom Day stories:
Iraq: Covering The Most Dangerous Beat On Earth
Afghanistan: Women In Journalism Battle Restrictions, Threats
Iran: State Maintains Tight Control Over Information
CIS: Press Freedom In Former Soviet Union Under Assault
Central Asia: Bureaucratic Obstacles Hinder Journalists
Central Asia: Governments Wary Of Independent Media
Central Asia: Journalists Still Face Harassment, Threats

THE COMPLETE STORY: To view an archive of RFE/RL's coverage of media-related stories, click here.
SUBSCRIBE
For regular news and analysis on media issues throughout RFE/RL's broadcast area by e-mail,
subscribe to "RFE/RL Media Matters."