Head Of Iran's Teachers Union Arrested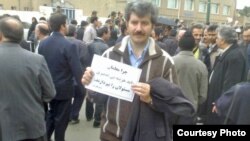 Iranian teachers protesting in Tehran last month (Courtesy Photo) April 16, 2007 (RFE/RL) -- The head of Iran's Teachers Union, Ali Akbar Baghani, was today arrested in Tehran while he was teaching.
Baghani had also been detained in March and released after spending about two weeks in jail.
The Teachers Union has been involved in organizing peaceful demonstrations against low wages.
In recent weeks a number of teachers involved in these protests have been detained.
Most of the detainees have been released.
Human Rights groups have criticized the Iranian government for detaining and summoning teachers who have staged the protests.
(with material from ILNA)