Opposition deputy Melis Eshimkanov told a crowd of some 6,000 protesters that about 21 of 75 lawmakers support a parliament dissolution, and he accused parliamentarians loyal to President Kurmanbek Bakiev of obstructing democratic reforms.
Another deputy, Osmon Artykbaev, told RFE/RL that legislators approve of dissolving parliament "because we think that parliament, along with Bakiev, is responsible for the current situation in the country, for the deterioration of the economic and political situation."
Parliament was expected to debate this week a draft of the constitution drawn up by a working group led by Prime Minister Almaz Atambaev.
Parliament speaker Marat Sultanov said today that lawmakers were ready to discuss a new version of the draft if all political forces reach a compromise.
However, another deputy, Kamchybek Tashiev, said that another group of legislators loyal to Bakiev were refusing to discuss the constitution at all.
"We decided -- many deputies, a group of deputies, comprising some 30 deputies -- have made the decision that we will not conduct any constitutional reforms, we will not look at any constitution as long as [opposition protesters] are creating disorder," Tashiev said.
He said the demonstrators' "goal is not conducting constitutional reforms. Their goal is to seize power or come to power."
Turmoil In Kyrgyzstan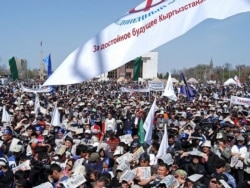 Opposition protests in Bishkek on April 11 (TASS)

TAKING TO THE STREETS. Edil Baisalov, president of the largest grassroots network in Kyrgyzstan, discussed the political turmoil in Kyrgyzstan at an RFE/RL briefing in Washington. He addressed the question of whether the unrest is a healthy democratic process or a bid to derail the country's fragile democratic transition.
LISTEN
Listen to the entire briefing (about 70 minutes):

Real Audio
Windows Media
RELATED ARTICLES
Protests Gain Steam Ahead Of Major Antigovernment Rally
Political Future Uncertain As Premier Steps Down
Revolution Anniversary Highlights Political Failures
Aksy Commemoration A Key Test For Bakiev
ARCHIVE
RFE/RL's coverage of
Kyrgyzstan
. The Kyrgyz-language website of
RFE/RL's Kyrgyz Service
.
SUBSCRIBE
For regular news and analysis on all five Central Asian countries by e-mail,
subscribe to "RFE/RL Central Asia Report."