Nazarbaev said organizations such as the United Nations, NATO, and the Organization for Security and Cooperation in Europe fail to settle international conflicts and crises, reduce the gap between the rich and the poor, and fight terrorism and extremism.

"In the modern world, simple ways to solve global problems do not exist, and we can see that," Nazarbaev said. "Violence only brings about more violence. Xenophobia, suspicion, and fear have already become the new plague of the 21st century."

Speaking at the opening ceremony of the sixth annual Eurasian Media Forum in Almaty, Nazarbaev warned that an armed conflict with Iran could have serious consequences for the entire world.

Addressing the forum, Iran's former reformist President Mohammad Khatami reiterated his country's right to peaceful uses of nuclear energy.

There has been speculation about a possible attack against Iran's nuclear sites by the United States or Israel.
Former Russian Prime Minister Yevgeny Primakov urged Iran to act "wisely" and to stop creating "suspicion."

The three-day forum aims at promoting East-West understanding through involvement of the media as well as political and business leaders.

(with material from Interfax)

Exporting Kazakhstan's Energy
Exporting Kazakhstan's Energy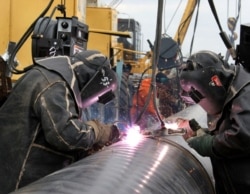 Work on a Kazakh pipeline (TASS file photo)


PRESSURE FROM THE KREMLIN? Columbia University political science professor Kimberly Marten told an RFE/RL briefing that Russia seems to be using its control of gas pipelines in the former Soviet Union to pursue its goals in Kazakhstan.
LISTEN
Listen to the entire briefing (about 60 minutes):

Real Audio
Windows Media
RELATED ARTICLES
The Emerging Post-Soviet Petrostates
Nazarbaev, Merkel Discuss Energy, Bilateral Ties
Nazarbaev Talking Energy, Economic Cooperation On China Visit
ARCHIVE
RFE/RL's coverage of
Kazakhstan
.