The ruling late on April 19 allows the authorities to make it illegal to publicly support the party.
A lawyer representing the party, Sergei Belyak, said the National Bolsheviks will appeal the ruling.
Russian authorities had already banned the group. The move follows a recent police crackdown on antigovernment protests in Moscow and St. Petersburg, which the National Bolshevik Party, as well as members of the Other Russia coalition, had played a role in organizing.
On April 19, the pro-Kremlin youth movement Nashi said it will campaign to have the opposition group Other Russia labelled as "extremist."
(AP, Reuters)
Russia's NGO Law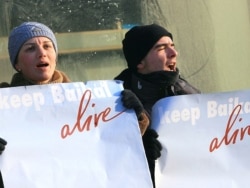 Russian environmental activists demonstrate in February 2006 against a proposed oil pipeline that they believe would have harmed Lake Baikal (TASS)


CLAMPING DOWN ON ACTIVISM. The authors of a report on Russia's controversial law on nongovernmental organizations issued by the U.S. Commission on International Religious Freedom told an RFE/RL briefing in Washington that the law places "disturbing" restrictions on NGOs.
LISTEN
Listen to the entire briefing (about 75 minutes):

Real Audio
Windows Media
RELATED ARTICLES
Foreign NGOs Rush To Beat Registration Deadline
Scrutiny Of Foreign Funds Hurts Democracy Programs
Spy Scandal Highlights Mounting Pressure On NGOs
U.S. Official Says New NGO Law Part Of Antidemocratic Trend

SUBSCRIBE
For a regular review of civil-society developments throughout RFE/RL's broadcast region, subscribe to "RFE/RL (Un)Civil Societies."