Many Afghans have expressed rage over news of the widely circulated images of the brutal killing of a man by an adolescent executioner. Some have questioned the decision of television stations to broadcast even excerpts of the video -- including Afghan popular channels Aryana and Tolo.
But after seeing the clips, one man who spoke with RFE/RL's Radio Free Afghanistan said he was appalled by both the broadcast and the barbarity of the crime. "It really is a barbaric act," he said. "I watched it on TV. It was a little boy who was beheading a young man. It is horrifying. What will become of this little boy when he gets older?"
'Very Bad Effect On Our Minds'
The video shows a young boy in a camouflage uniform standing over a man who is accused of being a Pakistani militant. Jihadi songs are playing in the background. The boy accuses the man of spying for the United States before the slaying.
"I [ask] the Afghan press not to publish such things," a Kabul man told Radio Free Afghanistan. "Well, they can report it on the radio. But please, not on the television or in news programs. Because it has a very bad effect on our minds."
The video has been broadcast on television in Pakistan and Afghanistan.
While masked men hold the terrified captive by his beard, the boy says the man will be executed as a lesson to other "traitors." Then the film shows him slitting the victim's throat as the other men hold their captive down and chant, "God is great!" The boy then uses the knife to saw the victim's head off.
The victim is identified as Ghulam Nabi, a onetime Taliban who his former comrades accused of helping U.S. forces to kill a senior Taliban commander in an air strike in southern Afghanistan.
News agencies quoted the murdered man's father, Ghulam Sakhi, confirming that his son was the man shown on the video. He said his son had been loyal to the Taliban.
A Major Departure?
While pro-Taliban militants have released many propaganda tapes in the past, this latest film stands out mostly for its use of a juvenile as an executioner.
The UN Children's Fund (UNICEF) condemned the killers' use of a young boy to carry out the killing as a crime under international law. They called it a "terrible example of how children can be used by adults to commit heinous crimes in times of conflict."
The U.S.-based Human Rights Watch (HRW) similarly describes it as a war crime.
Hangomah Anwari, a member of Afghanistan's Independent Human Rights Commission, told RFE/RL that she is gravely concerned over the use of children to commit war crimes.
"I have not seen the video myself, but using children in any conflict or war is against all Islamic and international laws and regulations," Anwari said. "A child cannot make informed decisions and act upon them. And moreover, using children in war and conflict has a very negative effect on the mental health of the child."
Fahim Dashti, an independent journalist based in Kabul, said that by showing video of a child killing a purported "enemy," he thought the Taliban appeared to be playing to certain elements in remote areas.
"I think this issue provide encouragement for those who have a very low education [levels] and have [mixed] Islamic and tribal issues in their culture," Dashti said. "The Taliban use such strategies because they know that they will encourage more people and that they can gain supporters."
Dashti also criticized Afghan television stations that broadcast the video. He argues that, by showing the film, the media have actually served the aims of publicity-hungry terrorists.
(RFE/RL's Radio Free Afghanistan contributed to this report.)
The Afghan Insurgency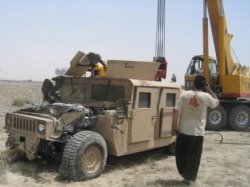 A U.S. military vehicle damaged by insurgents near Kandahar (epa)
HOMEGROWN OR IMPORTED? As attacks against Afghan and international forces continue relentlessly, RFE/RL hosted a briefing to discuss the nature of the Afghan insurgency. The discussion featured Marvin Weinbaum, professor emeritus of political science at the University of Illinois at Urbana-Champaign, and RFE/RL Afghanistan analyst Amin Tarzi.
LISTEN
Listen to the entire briefing (about 83 minutes):
Real Audio
Windows Media
ARCHIVE
RFE/RL's
coverage of Afghanistan
.
SUBSCRIBE
For weekly news and analysis on Afghanistan by e-mail,
subscribe to "RFE/RL Afghanistan Report."