NATO officials are keen to stress that the alliance's mission in Afghanistan remains its most important engagement.
Speaking to journalists in Brussels on April 24, NATO's assistant secretary-general for political affairs and security policy, Martin Erdmann, said Afghanistan will be at the top of the agenda at the ministerial meeting in Oslo this weekend.
"Afghanistan remains NATO's No.1 top priority."
"Afghanistan remains NATO's No.1 top priority," Erdmann said. "Only last week, the North Atlantic Council, at ambassadorial level, went to Afghanistan for a three-day visit. The [NATO] foreign ministers will [now] review the progress made and ways to sustain and reinforce the progress."
Training And Regional Cooperation
NATO officials say the alliance's strategy in Afghanistan has two main elements. One is to continue extending the training provided to Afghan national security forces. The other involves building closer ties with Afghanistan's neighbors, especially Pakistan.
Officials in Brussels say there has been a shift away from last year's frequent calls for more troops. Erdmann said that after contributions made at the Riga summit in November 2006, the "situation has improved a lot."
He said offers by some member states to remove restrictions on the use of their troops, known as caveats, had also helped.
In addition to extending its training responsibilities, NATO is also hoping to engage other international organizations in the Afghan reconstruction effort. It is particularly interested in establishing closer coordination with the European Union.
However, NATO spokesman James Apparthurai said calls by outgoing French President Jacques Chirac and others to set up an international "contact group" have gone largely unheeded. He said most allies feel there should be "more contact, [but] less group."
Reaching Out To Pakistan
Erdmann stressed that NATO believes that a sustainable solution for Afghanistan's problems can only be found with the cooperation of its neighbors. Among them, he said, Pakistan is seen as key.
"Pakistan clearly is a key factor in the region and therefore ministers should have the opportunity to involve Pakistan -- and possibly other countries of the region -- into the reconstruction process and stabilization process," he noted.
Apparthurai said NATO Secretary-General Jaap de Hoop Scheffer will travel to Pakistan "in the coming weeks" to meet President Pervez Musharraf.
Apparthurai also pointed to NATO's role running a joint intelligence center with Afghanistan and Pakistan in Kabul, the alliance's efforts to promote joint border controls between the two countries, and the help individual NATO countries are giving Pakistan to help improve its ability to control its borders.
The NATO spokesman appeared to acknowledge that Pakistan's agreements with tribal elders in North and South Waziristan -- territories bordering Afghanistan inhabited by ethnic Pashtun tribes -- have not curbed the influx of militants or weapons into the territory of its neighbor.
NATO is also trying to enlist India's assistance. A NATO assistant secretary-general last week visited both India and Pakistan.
Apparthurai said NATO ministers will not discuss U.S. claims that Iran is supplying weapons to the Taliban at their Oslo meeting.
General Agreement On Missile Defense
The other main topic on the ministers' agenda will be missile defense. Erdmann said all NATO allies share the U.S. belief that the missile threat from Iran is real, and accept U.S. plans to build installations in Poland and the Czech Republic.
But Erdmann also said there is as yet "no consensus" within the alliance itself on how it should respond to the U.S. move.
"I would not go as far as to say that there is a consensus," he said. "I would even go as far as to say that the discussion has just started, [doing so] last week at the level of political directors or security policy directors -- so at senior official level-- but this time we are embarking on a political debate among foreign ministers."
NATO last year conducted a "feasibility study," which reportedly supported the idea of creating a missile shield for the European allies.
NATO ministers will also sound out Russian Foreign Minister Sergei Lavrov's views at an evening meeting of the NATO-Russia Council on April 26.
Erdmann described as "sobering" Russia's irate response on April 23 to U.S. Secretary of Defense Robert Gates' attempts to dispel Moscow's suspicions about the purpose of the shield.
The NATO ministers meeting will also discuss the future of Kosovo and enlargement.
Erdmann said that in Kosovo, NATO will take its cue from the UN Security Council and only perform an "implementing role."
Croatia, Albania and Macedonia remain the only three countries formally on the shortlist to join the alliance -- though Erdmann reiterated NATO's standard position that its "doors will remain open."
Tribal Trouble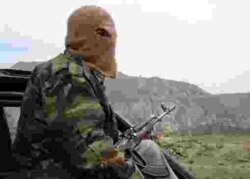 A Pakistani tribesman patrols near Wana in South Waziristan (AFP)
NO MAN'S LAND.
Fighting erupted in March involving tribesmen in Pakistan's fiercely independent western regions, where reports suggest locally backed offensives targetted Uzbek and other foreign Taliban sympathizers.
RELATED ARTICLES
Pakistan: Crackdown Could Pose Threat To Central Asia
Central Asia: Has IMU Reached The End Of The Line?
SUBSCRIBE
For regular news and analysis on Afghanistan by e-mail,
subscribe to "RFE/RL Afghanistan Report."