The plan is opposed by Russia, which has called it a threat to its national security, while some NATO member countries have also expressed reservations.
Russian Foreign Minister Sergei Lavrov is expected to explain Moscow's opposition when he attends a meeting of the NATO-Russia Council in Oslo.
The United States says the proposed missile shield is not aimed against Russia, but is meant to protect against potential small-scale missile threats from countries such as Iran or North Korea. It would include basing a radar in the Czech Republic, and deploying missile interceptors in Poland.
The NATO meeting is also expected to review the alliance's secuity missions in Afghanistan and Kosovo. The NATO allies are expected to press Russia to support a proposal that would grant independence to Kosovo under international supervision.
(Reuters, AP, ITAR-TASS)
Final Status For Kosovo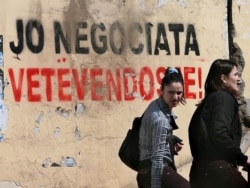 Pro-independence graffiti in Prishtina (epa)

FINALLY STATUS? Sabine Freizer, director of the Crisis Group's Europe Program, told an RFE/RL briefing that deep divisions in the UN Security Council make it uncertain what form Kosovo's future status might take.
LISTEN
Listen to the entire briefing (about 70 minutes):

Real Audio
Windows Media
ARCHIVE
RFE/RL's coverage of
Kosovo
. The website of
RFE/RL's South Slavic and Albanian Language Service
.