Earlier in the day, Russian President Vladimir Putin said Russia would freeze its compliance with the Conventional Forces in Europe Treaty (CFE) because NATO members have not ratified the pact and are not abiding by its provisions.
De Hoop Scheffer said Putin's decision was later confirmed to NATO by Russian Foreign Minister Sergei Lavrov.
De Hoop Scheffer said NATO allies are "gravely concerned" about the decision. He said the allies believe the treaty to be one of the cornerstones of European security.
The CFE treaty was signed by members of NATO and the former Warsaw Pact. It was later modified after the breakup of the Warsaw Pact and expansion of NATO. Only four countries -- Belarus, Kazakhstan, Russia, and Ukraine -- have ratified the revised treaty.
NATO members say they will ratify the new version once Russia meets commitments it made in 1999 to withdraw its forces from Georgia and Moldova.
(AFP, AP)
U.S.-RUSSIA RELATIONS IN FOCUS
Allies Or Adversaries?

"I think there was too much euphoria, too much of an inclination to declare that Russia was a democracy," former U.S. National Security Adviser Zbigniew Brzezinski told RFE/RL.

more

Confused Or Cunning?

Harvard Historian Richard Pipes argues that Putin's Russia is confused about its role in the world and, therefore, an unreliable partner for the United States.

more
Russia And The EU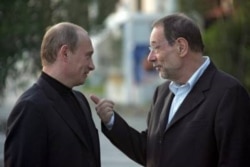 Russian President Vladimir Putin (left) with EU foreign policy representative Javier Solana in Sochi in May 2006 (epa)


A POLICY OF APPEASEMENT? Ralf Fuecks, head of the Heinrich Boell Foundation and a Green Party activist, spoke at RFE/RL's Prague broadcast center about the EU's complex relations with a resurgent Russia. RFE/RL President Jeff Gedmin moderated the discussion.
LISTEN
Listen to the entire briefing (about 60 minutes):

Real Audio
Windows Media
RELATED ARTICLES
Moscow Hosts PACE Standing Committee
Brussels Mulls Over Its Energy Sources
Council Of Europe 'Convinced' Of Chechnya Torture
ARCHIVE
RFE/RL's coverage of
Russia
.