Akaeva is the eldest daughter of former President Askar Akaev, who was ousted by a popular uprising on March 24, 2005.
Kyrgyzstan's Supreme Court on April 27 upheld an earlier ruling by the Kemin district court which maintained that Akaeva was not eligible to run for a vacant seat in the Kyrgyz parliament.
The courts have determined that Akaeva did not meet minimum residency requirements in Kyrgyzstan to qualify as a candidate.
By-elections in the Kemin constituency are scheduled for April 29.

Elena Imankulova, chairwoman of the Kemin constituency, told RFE/RL today that the Kemin district is calm, without any political rallies or protest actions.

Bermet Akaeva told journalists today that she will appeal to the country's constitutional court.
Another by-election is scheduled for April 29 in the Otuzadyr constituency in the southern Osh region.
Turmoil In Kyrgyzstan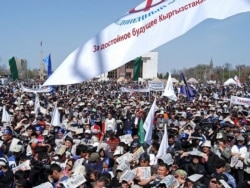 Opposition protests in Bishkek on April 11 (TASS)

TAKING TO THE STREETS. Edil Baisalov, president of the largest grassroots network in Kyrgyzstan, discussed the political turmoil in Kyrgyzstan at an RFE/RL briefing in Washington. He addressed the question of whether the unrest is a healthy democratic process or a bid to derail the country's fragile democratic transition.
LISTEN
Listen to the entire briefing (about 70 minutes):

Real Audio
Windows Media
RELATED ARTICLES
Protests Gain Steam Ahead Of Major Antigovernment Rally
Political Future Uncertain As Premier Steps Down
Revolution Anniversary Highlights Political Failures
Aksy Commemoration A Key Test For Bakiev
ARCHIVE
RFE/RL's coverage of
Kyrgyzstan
. The Kyrgyz-language website of
RFE/RL's Kyrgyz Service
.
SUBSCRIBE
For regular news and analysis on all five Central Asian countries by e-mail,
subscribe to "RFE/RL Central Asia Report."