Famed Russian Cellist Rostropovich Buried In Moscow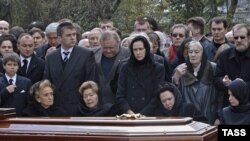 The funeral of Mstislav Rostropovich (ITAR-TASS) April 29, 2007 -- Russian cellist and conductor Mstislav Rostropovich was buried in Moscow's historic Novodevichy Cemetery today.
The religious ceremony was attended by hundreds of mourners and followed a funeral service in the Christ the Savior Cathedral.
One of Russia's greatest musicians, Rostropovich was also a champion of civil rights during Soviet rule.
He died on April 27 at the age of 80 from cancer.
(AFP)