Some 130 suspected militants were reported killed by U.S.-led coalition and Afghan forces over the past few days in Afghanistan.
According to U.S.-led coalition forces, some 87 suspected Taliban fighters have been killed in half a day of fighting in Afghanistan's western Herat Province.
Heavy Fighting
Speaking to RFE/RL's Radio Free Afghanistan today from Bagram air base, coalition spokesman Chris Belcher said the April 29 attack against the Taliban was initiated by coalition forces and the Afghan National Police. Belcher said the militants were attacked with mortars, small-arms and rocket-propelled-grenade fire. Several locations in the south of Shindand district were bombarded by a coalition aircraft.
"As Taliban fighters attempted to flee, an AC-130 gunship engaged and killed 26 enemy fighters on both sides of the river valley," Belcher said. "A total of seven enemy positions were destroyed, and 87 Taliban fighters were killed during the 14-hour engagement."
Two days earlier, the U.S.-led coalition said 49 Taliban were killed in the same area. One U.S. soldier died in that fighting.
Taliban officials have not commented on the reported losses.
Locals Protest
Meanwhile, Shindand residents accused the U.S.-led coalition troops of killing local people during the fighting.
Early April 30, some 1,000 Afghans stormed the district government building in Shindand. Protesters demanded that coalition and Afghan forces halt the aerial bombardment and all military operations in the area.
"There are [helpless] people from the Achikzai, Barekzai, and Nurzai clans, Tajiks -- all have come to the demonstration in Shindand," one protester said. "We demonstrate against the government and ask the government to stop the bombardment. If they do not stop it, we will go to Herat."
Protesters say they will continue the demonstration until the coalition and Afghan troops end the military operation in Shindand's Zerkoh and Bakhtabad areas.
They threatened to set fire to the local administration building.
Police officials in Herat Province deny that Afghan troops have been involved in the fighting.
Herat Province, which borders Iran, has been one of the relatively safe areas of Afghanistan compared with the southern and eastern provinces, where the Taliban are more active and reportedly have more support from the local population.
The Drug Issue
Meanwhile, a new military operation against the Taliban was launched this morning in the southern part of Helmand Province. Some 2,000 NATO-led troops and 1,000 Afghan forces are taking part in Operation Silicon, which focuses on the opium-producing Sangin Valley.
Sangin has been the center of many clashes against the Taliban, who reportedly have joined forces with local drug barons.
While Afghanistan supplies almost 90 percent of the world's illegal opium, nearly 40 percent of the Afghan opium is reportedly produced in Helmand Province.
News agencies quoted British military sources in Afghanistan as saying Operation Silicon aims to clear the Taliban from the Sangin Valley.
Opium In Afghanistan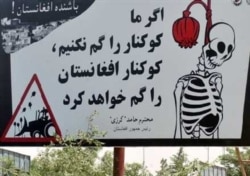 An antidrug billboard in Kabul shows a skeleton hanging from an opium bulb (AFP)
OPIUM FARMING ON THE RISE Despite a nationwide program by the Afghan government to eradicate opium-poppy fields and offer farmers alternative crops, international experts say that the 2006 opium crop will be as much as 40 percent larger than the previous year's. Afghanistan is the largest producer of opium in the world, and the source of as much as 90 percent of Europe's heroin.(more)
RELATED ARTICLES
Narcotics Supply Reduced, But Afghanistan Still Suffering
Saffron Could Help Wean Farmers Off Opium Poppies
Poppy-Eradication Drive Launched In Western Province
Insurgency Gains Ground As Poppy-Eradication Efforts Struggle
UN Drug Agency Promotes 'Alternative Development' For Curbing Poppy Cultivation
SUBSCRIBE
For weekly news and analysis on Afghanistan by e-mail,
subscribe to "RFE/RL Afghanistan Report."