Two were killed or died in the line of duty in the past 12 months, another was injured, and others have been arrested or harassed by authorities.
Iraq remains the most dangerous place in the world for journalists; more than 40 of them were killed there last year alone.
Last month, RFE/RL staff joined that grim list, when Radio Free Iraq correspondent Khamail Khalaf was found dead in Baghdad
Shut Down, Harassed, Threatened
Journalists with RFE/RL's Radio Free Afghanistan have been threatened by the Taliban, and put under pressure from all sides.
A correspondent for the Turkmen Service, Ogulsapar Muradova, died in jail last year in unclear circumstances.
For several months now, RFE/RL has been asking the Iranian authorities to allow one of Radio Farda's correspondents to leave the country.
Parnaz Azima, who's also a well-known translator of books, had her passport confiscated when she traveled to Tehran in January. At one point, she was asked to cooperate with Iranian intelligence services:
And for the past year and a half the Uzbek Service has been without a bureau in Uzbekistan, after authorities shut down its operations there. Nosir Zokirov, a former correspondent, continued to face official harassment after his release from jail last year.
As nations mark World Press Freedom Day on May 3, senior broadcasters from some of RFE/RL's language services have told of the challenges and dangers faced by their staff.
READ THE INTERVIEWS
RFE/RL's Radio Free Iraq

Sergei Danilochkin, director of RFE/RL's Radio Free Iraq, discusses reporting from the country that is the most dangerous place in the world to be a journalist.

more

RFE/RL's Radio Free Afghanistan

RFA Director Akbar Ayazi discusses the perils of covering the conflict between the government and the Taliban.

more

Radio Farda

Radio Farda correspondent Parnaz Azima has been unable to leave Iran since her passport was confiscated in January.

more


RFE/RL's Turkmen Service

Oguljamal Yazliyeva, director of RFE/RL's Turkmen Service, discusses covering one of the world's most notoriously closed countries.

more

RFE/RL's Uzbek Service

Khurmat Babadjanov, a broadcaster with RFE/RL's Uzbek Service, discusses the difficulties of reporting from post-Andijon Uzbekistan.

more
World Press Freedom Day
NOT REALLY SO FUNNY:
The Paris-based World Association of Newspapers asked French cartoonist Michel Cambon to produce a series of cartoons on the theme of jailed journalists to mark World Press Freedom Day (May 3). Below, RFE/RL reproduces several of Cambon's cartoons.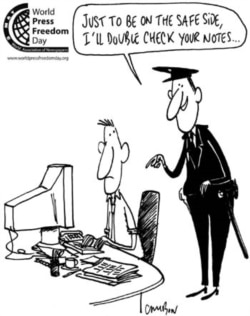 (WAN/Cambon)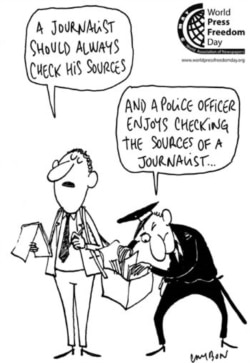 (WAN/Cambon)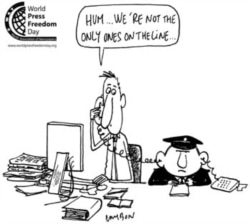 (WAN/Cambon)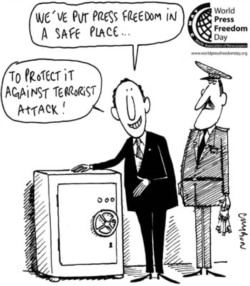 (WAN/Cambon)



RELATED ARTICLES
Threats To Press Freedom Growing More Severe
CIS Press Freedom Suffers Continued Decline
Pressure Mounting On Russian Opposition, Media
Uzbek Government Increases Its Blocking Of News Websites
ARCHIVE
To view an archive of RFE/RL's coverage of media-related stories, click here.
SUBSCRIBE
For regular news and analysis on media issues throughout RFE/RL's broadcast area by e-mail,
subscribe to "RFE/RL Media Matters."