"When your colleague is reported abducted and then maybe tortured and brutally killed, of course this inevitably produces a very heavy shock on anyone, especially on people who just spoke to this person or saw this person.
"This was of course the very first reaction.
"However, then we also have to take into consideration that people there in Iraq face that kind of brutal reality on a daily basis. And many of them know that there is no way to escape it.
'At any moment a bomb can go off or there could a suicide bombing or a shooting in the street.'
"Either you have to run away or you have to keep living, keep working, keep doing things, because otherwise there is no shelter for you.
For Another, A Lucky Escape
"Several days after this very unfortunate death of our colleague, people doing their jobs were put in danger. One of the journalists was reporting from the most protected area, which is the Green Zone, from the parliament building.
"She had just left the building and there was this terrible explosion in the cafeteria, she was in that particular place just minutes before it happened. Luckily she wasn't there, but on the other hand, you never know when such kind of danger may cross your [path].
'Multiplied Threat' For Reporters
"The most regular [danger] is just getting out on the street and being a regular passenger in a car, or a pedestrian in the street where at any moment a bomb can go off or there could a suicide bombing or a shooting or any kind of violent incident in the street. This is the thing everyone is being exposed to.
"However, when people are doing their reporter's job they are normally heading to the areas that would most probably be subject to such kinds of attacks, for instance markets or public buildings, police buildings or security forces buildings, so those kind of objects would be primary targets for such kind of attacks. So the threat is multiipied.
"People dealing with their journalism duties are known in smaller localities where we also have correspondents. They have been threatened, they have been attacked, and some of them have even been forced to leave the areas where they stayed.
Khamail Muhsin Khalaf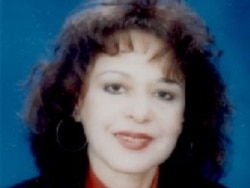 DEDICATED JOURNALIST: On April 5, the worst fears of the family and acquaintances of RFE/RL's Radio Free Iraq correspondent Khamail Muhsin Khalaf were realized when her body was recovered not far from her Baghdad home.
News of Khamail's death at the hands of her abductors elicited outrage and sorrow, and a vow by Iraq's Interior Ministry to bring to justice the killers of a woman who had "served Iraq for more than 30 years."
Khamail's husband, Muhammad, cited his late wife and mother of their three children's dedication to her work: "Even when she was ill, even when she was facing hard situations, even when she had family or social problems, her duty and attendance at work were most important."
Khamail's mother described the difficulty that authorities encountered even retrieving her daughter's body: "The police said that when commandos tried to clear the body from the street, gunmen were awaiting them and a shootout took place. The police commandos succeeded in clearing the body to Al-Yarmuk Hospital. I, her brother and his wife, and her uncles, we buried her, and here we are mourning her."
Please see:
Radio Free Iraq Reporter Found Dead In Baghdad
Iraqi Authorities Vow Justice For Journalist's Killers
Iraq: The True Voice Of Simple Iraqi People