Russia Accuses EU, NATO Of Rewriting History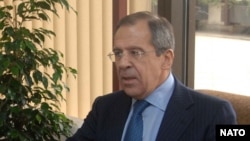 Sergei Lavrov (file photo) (NATO) May 7, 2007 -- Russian Foreign Minister Sergei Lavrov has accused the European Union and NATO of "conniving" with nations that disrespect the memory of Soviet soldiers to rewrite history.
"We cannot but feel indignation at the attempts to blaspheme and desecrate this memory [of Soviet soldiers killed in World War II] and to rewrite history," Lavrov said. "Unfortunately such attempts to scoff at history are becoming an element and an instrument of the foreign policies of certain countries. And unfortunately organizations such as the European Union and NATO are conniving at such attempts."
Lavrov made the remarks today at a ceremony in Moscow honoring Russian diplomats killed during World War II.
Russia has reacted angrily to Estonia's relocation of a Soviet World War II monument in the Estonian capital Tallinn last month.
Russians view the monument as a memorial to Soviet soldiers who died fighting German Nazi troops. Many Estonians see it as a reminder of Soviet rule.
(AP, AFP, Interfax, ITAR-TASS)