The Estonian Embassy in Moscow has been surrounded by demonstrators since a monument to Soviet soldiers who fought in World War II was removed from its central location in the Estonian capital Tallinn on April 27.

Meeting Sought
Today, a delegation of EU ambassadors sought a meeting with Russian authorities to make a formal protest after demonstrations continued in Moscow.
The demonstrations led the embassy to close its consular section today due to safety concerns.
"The [European] Commission appeals to the Russian government to deal with current issues with Estonia by means of dialogue."
Also today, the Estonian Foreign Ministry denounced a separate incident in which a speech by Estonia's ambassador to Russia was disrupted and her official car damaged.

Sweden, too, has filed a note of protest to Russia after its ambassador's official car was damaged on May 1 by demonstrators outside the Estonian Embassy.

Germany, the current EU president, issued a statement expressing "grave concern" about the deterioration of Estonian-Russian relations and "strongly urging" Russia to comply with its international obligations to "protect the staff and premises of the Estonian mission and ensure unimpeded access to it."

The European Commission issued a statement in Brussels, which was read out by its chief spokesman, Johannes Laitenberger.

"The [European] Commission urges the Russian authorities to fulfill their obligations under the Vienna Convention and to allow EU embassies to function properly and EU representatives to be protected adequately," Laitenberger said. "And the [European] Commission appeals to the Russian government to deal with current issues with Estonia by means of dialogue."

A "troika" of EU ambassadors in Moscow -- the German and Portuguese representatives for the current and upcoming EU presidencies, together with the head of the European Commission office -- want to hand over a demarche to the Russian authorities.
The EU ambassadors in Brussels raised the issue during their weekly meeting. One source said the Estonian ambassador told his EU colleagues that Russian officials had held secret meetings with leading participants of last week's violent protests in Tallinn. He also named Russian officials who Estonia says are behind recent attacks on Estonian government websites.

The source said Estonia received strong backing from all other speakers -- who did not include representatives of any of the larger EU states.
European Commission's Backing

Estonia's EU commissioner, Siim Kallas, told RFE/RL that the EU's executive arm, the European Commission, also strongly backed Estonia during its weekly meeting in Brussels.

"The most important priority was -- and everyone completely unanimously supported this, including the President [of the European Commission, Jose Manuel Barroso] -- the most important principle is solidarity with the member state," Kallas said. "All sorts of problems may arise, but the European Union must have solidarity with its member states."

Kallas, like other top Estonian officials, insisted that the removal of the Soviet war monument is an "internal issue" for Estonia. Today's German statement says "given the emotionally charged atmosphere surrounding the Soviet war graves in Estonia, it would be advisable to have a dispassionate dialogue on the matter." The statement also urges "understanding and mutual respect."

The monument, and the bodies of the Soviet soldiers it stood over, are to be moved to a military cemetery in Tallinn.

European Commission Vice President Kallas said it was not likely that the EU would seek to postpone its upcoming summit with Russia in Samara on May 18.
Partnership Talks In Jeopardy
However, one EU senior official told RFE/RL on condition of anonymity that the summit will now almost certainly not be able to launch talks on a new strategic partnership accord. EU-Russian relations are widely thought in Brussels to be at an historic post-1991 low and Moscow's falling out with Estonia is only the last in a long line of spats.

Russia's ban on Poland's meat imports remains in place and the source said the EU sees Moscow's demands as "absurd." Meanwhile, Poland has said it will block any new partnership talks.

Lithuania has hinted it may resort to a veto if Russia does not resume oil deliveries to its Mazheikiu refinery -- which Vilnius suspects were disrupted for political reasons.

Russian President Vladimir Putin rattled Western countries last week when he said Russia will consider withdrawing from the Conventional Forces in Europe (CFE) treaty, which put a cap on the number of troops and armaments in Europe.
Russia and much of the EU are also at odds over the future of Kosovo. Official Brussels wants Kosovo to have "managed" independence, a scenario that Moscow has threatened to veto.
Russia And The EU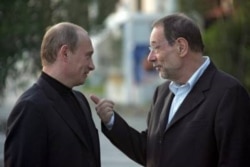 Russian President Vladimir Putin (left) with EU foreign policy representative Javier Solana in Sochi in May 2006 (epa)


A POLICY OF APPEASEMENT? Ralf Fuecks, head of the Heinrich Boell Foundation and a Green Party activist, spoke at RFE/RL's Prague broadcast center about the EU's complex relations with a resurgent Russia. RFE/RL President Jeff Gedmin moderated the discussion.
LISTEN
Listen to the entire briefing (about 60 minutes):

Real Audio
Windows Media
RELATED ARTICLES
Moscow Hosts PACE Standing Committee
Brussels Mulls Over Its Energy Sources
Council Of Europe 'Convinced' Of Chechnya Torture
ARCHIVE
RFE/RL's coverage of
Russia
.