"It is customary in Europe that differences...are solved by diplomats and politicians, not on the streets or by computer attacks," AP quoted Ilves as saying in a statement.
Relations between Russia and Estonia have fallen to new lows since the Bronze Soldier monument, and bodies of Soviet soldiers it honored, was removed from the center of Tallinn on April 27.

The monument's removal was preceded by two days of violent riots in Tallinn that left one ethnic Russian dead and more than 150 people wounded. Since April 27, Russian demonstrators have been holding rallies outside the Estonian Embassy in Moscow, while Estonian government websites have been attacked.
Violent Demonstrations
Today, both Sweden and Estonia protested separate attacks on their ambassadors in Moscow, while the continued demonstrations led to the closure of the Estonian Embassy's consular services.
"There are still demonstrations going on around the embassy," Franek Persidski, a spokesman for the Estonian Embassy, told RFE/RL today. "Inside the embassy everything is calm and under [the] control of Estonian police. The embassy is still working, [but] our consular section is closed, starting [from] this morning, since the security situation is such that we cannot give out visas, nor take in papers to proceed [with] visa applications."
Representatives of the pro-Kremlin youth group Nashi disrupted a news conference held by Estonian Ambassador to Russia Marina Kaljurand at the office of the newspaper "Argumenty i fakty" in Moscow.
After being escorted from the premises by security guards, the protesters stood outside the newspaper's offices, shouting: "To the [Russian] soldier -- Hurray! Hurray! Hurray! To Estonia -- Shame! Shame! Shame! No to fascism! No to fascism!"
Kaljurand said after her news conference resumed that Estonia is prepared to conduct dialogue to resolve the issue "as long as this dialogue is conducted in a civilized manner," adding that "we do not and will not talk to people who shout, scream, and attack."
She added that "Russian authorities have not taken the necessary steps to fulfill their international obligations under conventions on diplomatic and consular missions," and as a result "cannot guarantee the safety of the embassy or the safety of embassy staff."
'Unjustifiable' Actions
Estonia's Foreign Ministry denounced the disruption of the press conference as "absolutely unjustifiable." Ministry spokeswoman Ehtel Halliste was quoted by AFP as saying that the protestors attempted to physically attack Kaljurand before being repelled. The news agency reported that members of a second youth group, Mestnye, attempted to block Kaljurand's car and snapped the Estonian flag off its hood.
The Swedish Foreign Ministry also today announced that it has sent a strong protest to Russia after the official vehicle of the Swedish ambassador was attacked in Moscow on May 1, dpa reported.
Prime Minister Andrus Ansip has called on the European Union to help protect his country against "Russia's coordinated attacks," while the Foreign Ministry has alleged that the Kremlin is behind attacks on Estonian government websites.
In calling for Russia to "remain civilized" today, Estonian President Ilves said, "It is not customary in Europe to use computers belonging to public institutions for cyber-attacks against another country's public institutions," AP reported. He added that "it is not customary in Europe to demand the resignation of the democratically elected government of another sovereign country."
European Response
The European Commission addressed the dispute during a news conference in Brussels today, calling on the Russian authorities to fulfill their obligations under the Vienna Convention and to allow EU embassies to function properly and EU representatives to be protected adequately."
The Bronze Soldier, which honors Red Army soldiers who died fighting in World War II, is seen by Estonians as a symbol of the Soviet occupation of Estonia. The country's large Russian-speaking minority, however, sees the monument as symbolic of the Soviet Union's role in defeating Nazi Germany.
It is to be relocated together with the remains of Soviet soldiers buried under it to a Tallinn military cemetery.

IN FOCUS -- RUSSIA'S RELATIONS WITH THE BALTIC STATES
Estonia's President On Russia

"I would say that virtually all of the issues that we have in our problems with Russia stem from an absolute refusal on the part of Russia to really accept what happened in the past. "

more

Russian Criticizes Baltics At UN

Russia presented a draft resolution to the UN General Assembly last year decrying xenophobia and racism, directed mainly at Estonia and Latvia.

more
Rising Russian Nationalism
Rising Russian Nationalism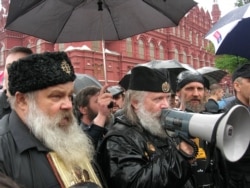 Orthodox believers and nationalists heckling a gay-rights rally in Moscow in May 2006 (RFE/RL)
A THREAT TO CIVIL, RELIGIOUS LIBERTIES: Several leading experts told a briefing hosted by RFE/RL and the U.S. Commission on International Religious Freedom that several mounting trends in Russia are posing a growing threat to human rights, especially for members of the country's ethnic and religious minorities.
LISTEN
Listen to the entire briefing (about 90 minutes):

Real Audio
Windows Media
RELATED ARTICLES
Why Putin Is Going To The Vatican
Bishop Assails Russian Orthodox Church

A thematic webpage devoted to issues of religious tolerance in RFE/RL's broadcast region and around the globe.