Russian Lawmakers Fuel Estonia-Russia Row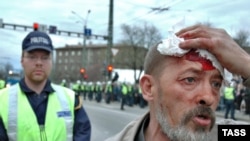 A man injured on April 26 demonstrating against removal of the war memorial (ITAR-TASS) May 1, 2007 -- A visit by a Russian parliamentary delegation to Tallinn appears to have increased tensions in an Estonian -Russian row over the Estonian government's removal of a Soviet World War II monument.
The Russian lawmakers, visiting Tallinn on April 30, called on the Estonian government to resign. The Estonian Foreign Ministry, meanwhile accused them of snubbing planned meetings with Estonian officials.
Estonian police today banned public gatherings in the capital region to prevent further disorder.
Authorities also extended a ban on alcohol retail sales through May 9, fearing unrest on the date when ethnic Russians traditionally celebrate the Red Army's 1945 defeat of Nazi Germany.
The removal of the Bronze Soldier memorial from the center of Tallinn on April 26 sparked rioting that left one Russian national dead.
On April 30, the Bronze Soldier statue was reinstalled at a military cemetery in Tallinn.
(compiled from agency reports)