Russian Lawmakers Visit Estonia For Memorial Talks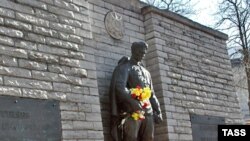 The Bronze Soldier memorial on April 23 (ITAR-TASS) April 30, 2007 -- Lawmakers from Russia's lower house of parliament arrived in Estonia today in the wake of the Estonian government's removal of a Soviet World War II memorial in Tallinn.
The removal of the Bronze Soldier statue from a central square last week sparked riots that left one Russian national dead and more than 150 people injured.
The State Duma delegation is scheduled to meet Estonian officials as well as defenders of the monument.
The head of the delegation, Deputy Nikolai Kovalyov, earlier today called for the Estonian government's resignation.
He said the Russian parliament's response would be "tough."
"What is happening in Estonia has no precedent in world history," Kovalyov said. "It is nothing but an act of provocation against Russia. It is a considered act, and that is what has forced us to come up with a very tough response and to take a tough position."
A forensic scientist told a news briefing in Tallinn today that the coffins of 12 Soviet soldiers buried under the memorial have been uncovered.
Protesters today held rallies outside the Estonian embassies in Moscow and Kyiv. Estonia's Foreign Ministry said it had sent a note to Russia voicing indignation at the "attacks" against its Moscow embassy.

(compiled from agency reports)