Panel Says World Bank Head Broke Rules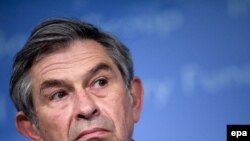 Paul Wolfowitz (file photo) (epa) May 8, 2007 -- An investigative panel has found World Bank President Paul Wolfowitz broke bank rules by arranging a pay raise and promotion for his girlfriend.
The findings have not been made public, but Wolfowitz has reportedly been notified.
On May 7, one of two close Wolfowitz aides resigned, saying the turmoil at the bank has made it difficult for him to do his job.
The departure of Kevin Kellems is seen as a blow for Wolfowitz.
Wolfowitz will face the bank's 24-member board of directors on May 9 before a decision is made on any disciplinary action.
The controversy has spurred calls for Wolfowitz to resign. Wolfowitz maintains he did nothing wrong.
(compiled from agency reports)