Tajik President Holds Tehran Talks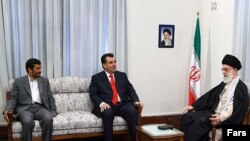 Rahmon (center) with Ahmadinejad (left) and Khamenei in Tehran today (Fars) May 8, 2007 -- Iranian Supreme Leader Ayatollah Ali Khamenei today called on Persian-speaking countries to reinforce their ties in order to demonstrate their capabilities.
Khamenei spoke during a meeting with visiting Tajik President Emomali Rahmon.
Rahmon is quoted as saying Iran's development is a source of pride for the Tajik people. Iranian President Mahmud Ahmadinejad earlier said the two countries enjoy great potential to cooperate in the fields of energy, transportation, water supply, road construction, industry, trade, and culture.
(IRNA, Mehr)