Backers of the draft changes dismiss the criticism, arguing that limits are in place to prevent official encroachments on an independent press.
Afghanistan's media law, which was decreed by President Hamid Karzai before the country's first directly elected legislature came into existence, is widely regarded as one of the most tolerant in the region.
Many local journalists and press unions have expressed concern as lawmakers attempt to refashion it.
Hampering Journalists' Work?
Said Agha Fazil Sanjaraki, the head of Afghanistan's National Journalists Union, is among those campaigning against the media amendments. He tells RFE/RL that his group is lobbying against several specific changes to the law, which -- in his view -- would hamstring journalists.
"The media commission, which monitors complaints, has been a great support for journalists in the past," Sanjaraki says. "Unfortunately, the new law abolishes this commission. Also, the Afghan Radio and Television [broadcaster] was a public service company. Now, National Radio and Television will work under the auspices of the Ministry of Information of Culture."
Sanjaraki says the draft changes include numerous clauses on Islamic principles that are "vague and need to be clarified."
Fahim Dashti, who is editor in chief of the "Kabul" weekly, tells RFE/RL that as an independent journalist, he would be directly affected by the changes.
"The new law will provide conditions for the authorities to control the media," Dashti says. "Also, it could create ways to pressure the media and media workers. It also opens the way to possible misinterpretation of what is published in the media."
'Even If There Were...'
Government sources have dismissed journalists' deepest concerns.
The current law came into effect in 2004, when the Afghan government updated media legislation that had initially been approved in 1960s. Since Afghanistan had no parliament at the time, Hamid Karzai issued the media law in the form of a decree.
Najib Manalai is a media adviser to the Information and Culture Ministry. He tells RFE/RL that the Wolesi Jirga, the lower house of the parliament, has merely been discussing insignificant changes to the existing legislation. He also notes that Karzai's media decree was never debated or approved by the parliament.
Manalai rejects accusations that the government is trying to control the media.
"What the Afghan government wants or doesn't want is one thing, and what the Afghan government can or cannot do is another," Manalai says. "According to our media law, the government has no such right [to control the media]. So, even if there were someone in the Afghan government who wanted to take control of the media, they would not legally be able to do so."
Inexperienced Sector
Both supporters and opponents of the draft amendments agree on one point -- that the Afghan media is young and inexperienced, and thus vulnerable to errors and inaccuracy.
Shukriya Barekzai, a member of the Afghan parliament and a former journalist, tells RFE/RL Afghan journalists have a long way to go to fulfill their duties in a professional and objective manner.
"The Afghan media are not yet competent nor proficient," Barekzai says. "They are facing a lack of strategy and a lack of qualified people. Unfortunately, the media are involved in internal fighting among various political groups. Perhaps [the media] have taken that route involuntarily."
Barekzai and other critics of these draft amendments argue that any changes should create an environment to protect the journalists, not restrict them.
World Press Freedom Day
NOT REALLY SO FUNNY:
The Paris-based World Association of Newspapers asked French cartoonist Michel Cambon to produce a series of cartoons on the theme of jailed journalists to mark World Press Freedom Day (May 3). Below, RFE/RL reproduces several of Cambon's cartoons.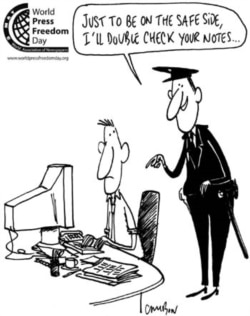 (WAN/Cambon)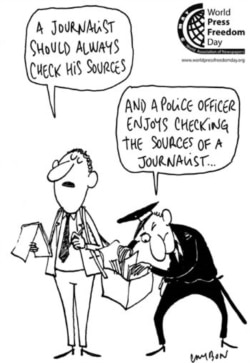 (WAN/Cambon)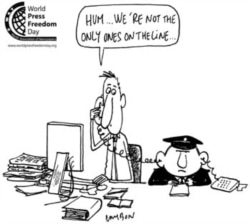 (WAN/Cambon)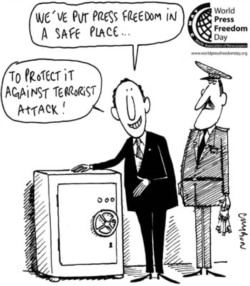 (WAN/Cambon)



RELATED ARTICLES
Threats To Press Freedom Growing More Severe
CIS Press Freedom Suffers Continued Decline
Pressure Mounting On Russian Opposition, Media
Uzbek Government Increases Its Blocking Of News Websites
ARCHIVE
To view an archive of RFE/RL's coverage of media-related stories, click here.
SUBSCRIBE
For regular news and analysis on media issues throughout RFE/RL's broadcast area by e-mail,
subscribe to "RFE/RL Media Matters."