When the news came of the peace agreement in 1997, people weren't out on the streets singing and dancing. Although it was a glimmer of hope, there was very little to celebrate. It was the end of a bloody and painful war, which inflicted huge suffering and losses on the Chechen people.
My first thought when I heard about the signing of the peace agreement was whether this was finally the end of years and years of hostilities between Russia and Chechnya. Is this a new page in history? Or is it simply a ploy, a temporary solution to the problem?
Many Chechens were skeptical of the peace agreement. There's been a very long and difficult history of relations between Russia and Chechnya. In Tsarist times, the Russians fought against Chechens and Caucasians for several decades.
Because of this historical burden, a lot of people were concerned whether Russia was going to respect the agreements. When I heard about the signing I remembered what Winston Churchill once said: " I cannot forecast to you the action of Russia. It is a riddle wrapped in a mystery inside an enigma."
There was a fear in the back of many people's minds that as soon as Russia gets stronger, as soon as the economy improves, things might turn nasty.
There were two big factions, both inside the Russian leadership and in Chechnya: the peaceniks, and what we may call the "war faction." Many people knew that the faction that advocated violence was still quite strong.
History proved them right, as a couple of years later the situation changed radically. It was clear by 1999 that Russia would never let Chechnya become independent.
Now, the prognosis is not very promising. It is clear that the "siloviki," the powerful faction of former security-service personnel, are consolidating their power in Russia. There are still voices calling for a peaceful solution in the Caucasus -- but those voices are mostly abroad.
(The views are the author's own and do not represent those of RFE/RL.)
Forgotten Chechnya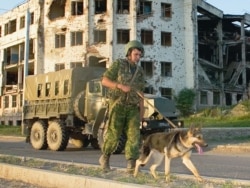 A Russian sapper searches a Grozny street for improvised explosive devices in June 2006 (TASS)
THE CRYING SUN: RFE/RL and the American Committee for Peace in the Caucasus recently hosted a screening of the film "The Crying Sun: The Impact Of War In The Mountains Of Chechnya." The filmmaker and activists discussed the making of the film and their work in Chechnya at the briefing.
LISTEN
Listen to the entire briefing (about 70 minutes):

Real Audio
Windows Media
RELATED ARTICLES
Chechen President Chooses A Cabinet Of Close Friends
Rights Activist Discusses Difficulties Of Working In Chechnya
Russian Ministry Admits Chechen Resistance Still Poses 'Serious Threat'
Chechnya Cell-Phone Videos Reveal Abuses


RFE/RL's complete coverage of Russia's war-torn Republic of Chechnya.
CHRONOLOGY
An annotated timeline of the Chechnya conflict.