The lavish inauguration ceremony took place in the town of Gudermes, Kadyrov's stronghold east of the Chechen capital, Grozny.
Speaking at the inauguration ceremony, Kadyrov swore to "respect and protect human and civil rights and freedoms, defend the rights of the multiethnic people of the Chechen Republic, serve them loyally, and observe and protect the constitution and the laws of the Chechen Republic."
Kadyrov has de facto controlled the war-torn republic since the assasination of his father, then Chechen President Akhmed-hadji Kadyrov, in 2004.

The 30-year-old former separatist rebel turned Moscow ally was nominated by Russian President Vladimir Putin and approved by the local parliament last month.

His appointment followed the resignation of his predecessor, Alu Alkhanov.
Career Rise
Since his father's death, Kadyrov has risen rapidly up the career ladder. He has been a first deputy prime minister, an adviser to Putin's envoy to the region, and then prime minister.
After his 30th birthday in October 2006, he was allowed under the constitution to run for president.
Andrei Babitsky, an RFE/RL correspondent with extensive reporting experience in Chechnya, says the long-term future of the republic depends in large part on who succeeds Vladimir Putin as Russia's president in elections scheduled a year from now.
"Kadyrov is the kind of leader who takes no account of human rights."
"Until there's a change in presidents, the situation isn't going to change radically, although we can always expect some kind of surprise from Ramzan," Babitsky says.
"Putin won't touch Kadyrov under any circumstances, because he would like to leave his presidential post keeping intact his reputation as a peacemaker -- as the person who managed to pacify Chechnya."
Militia
A former militant, Kadyrov commands his own militia. The armed group has been credited with helping restore peace to the troubled Russian republic by killing insurgents and forcing militants into mountain hideouts.
Many, inside and outside Chechnya, have praised Kadyrov for his reconstruction efforts in the republic. There is a construction boom, more jobs, and a restive sense of calm.
But RFE/RL's Babitsky says Chechnya's stability comes at a price: "[Kadyrov] is the kind of leader who takes no account of human rights, who is behind very many deaths, violence, bloodshed, and kidnappings. Today his militia are picking up where federal forces have to a significant degree left off."
Last month, the Council of Europe's Thomas Hammarberg said he had
found evidence of widespread torture
by law enforcement officials in Chechnya.
Kadyrov rejected the charges, saying human rights abuses in Chechnya were a thing of the past.
(with material from agency reports)
The Rise Of Ramzan Kadyrov
The Rise Of Ramzan Kadyrov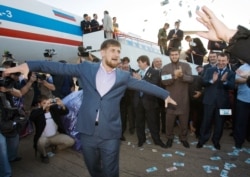 Kadyrov dances at the reopening of Grozny Airport
Ever since his father, pro-Kremlin Chechen President Akhmed-Hadji Kadyrov was killed in a May 2004 bomb blast in Grozny, Ramzan Kadyrov has risen to prominence.
In March 2006, First Deputy Prime Minister Kadyrov, who heads a personal army of 10,000 heavily armed fighters, was named prime minister. His reign as premier has been characterized by divisions in the Chechen leadership and accusations of torture. But he has also been credited with improving living standards in the republic.
In October, he turned 30, clearing the way for running for president.
CHRONOLOGY
The
fighting in Chechnya
has raged, with short breaks, since 1994. It has brought misery, death, and destruction to the North Caucasus republic and to Russia as a whole. View an
annotated timeline
of the conflict.