Shakhid Baysayev disappeared on his way to work during a military sweep near the Chechen capital, Grozny.
The court awarded his wife, Asmart Baysayeva, more than $86,000 in damages and court expenses.
Baysayeva sued Russia with the help of the human rights group Russian Legislative Initiative.
Arsen Sakalov, a lawyer with the group, told to RFE/RL: "The financial aspect is also important. But our biggest hope is that, once this ruling come into force, the authorities will launch an investigation, give law enforcement officials the corresponding orders, and find the perpetrators of this crime."
The court's decision was the latest in a series of rulings against Russia in cases connected to the war in Chechnya.
An estimated 5,000 people have disappeared in Chechnya since the start of the second conflict in 1999. Rights groups blame pro-Moscow Chechen security forces and Russian troops.
(with material from AP)
The Chechnya Conflict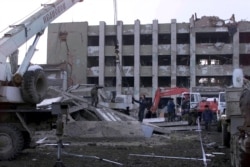 The aftermath of a December 2002 Chechen resistance attack on the main government building in Grozny (epa)


CHRONOLOGY
The
fighting in Chechnya
has raged, with short breaks, since 1994. It has brought misery, death, and destruction to the North Caucasus republic and to Russia as a whole. View an
annotated timeline
of the conflict.

ARCHIVE
RFE/RL's complete coverage of Russia's war-torn Republic of Chechnya.