OSCE To Help Minority Integration In Central Asia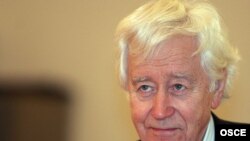 Rolf Ekeus (file photo) (OSCE) May 14, 2007 -- The Organization for Security and Cooperation in Europe says it will facilitate cooperation among Central Asian countries through educational programs for national minorities.
OSCE High Commissioner on National Minorities Rolf Ekeus made the announcement after talks with Tajik President Emomali Rahmon in Dushanbe today.
Ekeus said a new project, aimed at teaching members of ethnic minorities the state languages of the countries where they live, will cover Afghanistan, Kazakhstan, Kyrgyzstan, Tajikistan, and Uzbekistan.
(Interfax)