Rights Group Condemns Assaults On Privacy In Iran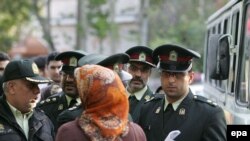 Police warn woman about her clothing in Tehran in April (epa) May 17, 2007 (RFE/RL) -- Human Rights Watch has condemned Iran's arbitrary arrests of thousands of men and women in recent weeks under the banner of "countering immoral behavior."
In a statement issued today, the organization called for the immediate release of all those detained as part of this campaign. It said more than 80 people seized in a raid on a private gathering in the city of Isfahan on May 10.