UNICEF Says Balkan Roma Shunned, Illiterate, Hungry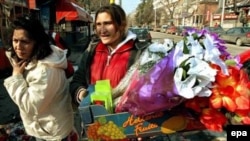 A Roma flower-seller in Belgrade (file photo) (epa) May 17, 2007 -- Roma are the largest minority group across the Balkans, but most of them spend their life in poverty, illiterate, underfed, and marginalized by society, a study by the UN children's agency, UNICEF, says.
The study shows most Roma live under the poverty line: 78 percent of Roma in Albania, and 66 percent in Romania, live on less that $4.30 a day.
Data from the region's countries put the Roma, or Gypsy, population at some 3.7 million people.
The World Bank says it is over 15 million in reality.
(Reuters)

SUBSCRIBE
For a regular review of politics, media, and RFE/RL broadcasts in the western Balkans,
subscribe to "RFE/RL Balkan Report."